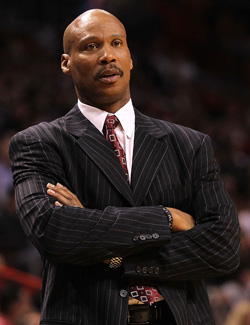 Byron Scott continues to criticize Cavaliers, failing to acknowledge culpability and piling on a struggling team.
Posted by Matt Moore
At this point, all Byron Scott is doing is beating a dead horse, then blaming the horse for looking dead. He's also disregarding his involvement in the horse being dead, as if his ownership of the horse should bear no relation to the state of the horse.
Scott has consistently and increasingly criticized his Cavaliers squad as the loss-total has mounted to unbelievable heights. He's kept saying how they have no heart and are basically an embarassment. His latest comments from the
Cleveland Plain Dealer
after the Cavs' loss to the
Thunder
Sunday:
But like the boy who cried wolf, Scott's words might be hollow threats after they're spoken again and again -- even if they're accurate.

"I'm really starting to question what type of heart we have as a basketball team," Scott said. "If you are a competitor, no matter what the situation is, no matter what the year has brought, you're going to come in and compete every single night. We haven't done that the last two games. That's my biggest question: Do we have enough guys in that locker room right now that have heart and some other things to go out there and play the way they're supposed to play?"
via
Cleveland Cavaliers hammered by Thunder, 95-75, and by Byron Scott's criticism | cleveland.com
.
Now, I'm sure in his comments, Scott has taken responsibility at some point for the team's struggles, and that the media is isolating those comments because they grab the most headlines. But just by making them, he's opening up for this appearance of the situation. And the appearance is that Scott is at the helm of this franchise which has reached historically bad depths, and yet is separating himself from their performance, despite being in charge. The players aren't showing effort? It's Scott's job to get them there. And if they're still not doing it? Throw out the cliches to the media, shrug a lot, and carry on.
What Scott's doing doesn't spell leadership. It doesn't spell inspiration, effort, or desire. It simply reeks of passing the buck, of blaming a group of players placed in an impossible situation. How did Scott think this season was really going to go without LeBron? And that's the real source of this issue. Scott came on board before "The Decision." When the front office was in transition, trying to figure out what it was doing as it tried to re-sign
LeBron James
. Scott is not the coach you want for a developing team trying to grow young talent. He notoriously buried
Marcus Thornton
and
Darren Collison
to start the 2009-2010 season in New Orleans. He demands all of his teams reach the level of execution he became used to as a member of the
Lakers
. But this team was not in that position.
It was set to rebuild, except neither ownership, nor management, nor ownership wanted to admit that. So instead of holding a firesale and recognizing where they really were, you have situations like this, where a team that's been beaten down, overwhelmed, and outclassed thanks to its roster makeup is getting kicked by its own coach. The Cavaliers organization has set up its team to fail, then blamed it for failing. Which is ironic, given so many years of blindly supporting LeBron James and his notoriously interference-heavy ways of influencing team policies and procedures.
It's not that the Cavaliers should be satisfied with the effort given by the Cavaliers. He should light them up for their failures in practice, demand more of themselves, more of himself. But the press shouldn't be given these kinds of quotes. It's not doing anything but make a miserable situation worse. If you didn't want this situation, you should have waited to make sure the player that would have made it easy re-signed.
Scott maybe didn't make this bed, but he chose it to be where he laid. Can't complain it's not comfy now.