Former Charlotte Bobcats coach Larry Brown says he wants to return to the college coaching ranks. Posted by Ben Golliver.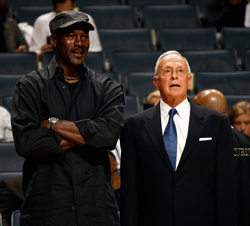 Larry Brown is one of coaching's great travelling men, having manned the sidelines for an ABA or NBA team in the 1970s, 1980s, 1990s, 200s and 2010s, before being forced out as head coach of the Charlotte Bobcats
back in December
.
But after coaching more than 2,000 games in the NBA,
Yahoo! Sports reports
that Brown, who is 70 years old, says he is ready to return to the college ranks, where he led the University of Kansas Jayhawks to an NCAA title more than two decades ago.
"Kids want to be in the NBA, and if you can coach and teach and get them ready for the NBA and you're at a good school, I think you'd have an unbelievable head start on a lot of people. I've always tried to get players better, whether as a college coach or a pro coach. Two minutes on the floor on the first day of practice, players know whether you can coach or not."
"I'd bring in a staff where someone is really good and capable of taking over," he said. "Look at the people who have worked for me or played for me that are coaching now."
"I don't want this to sound wrong, but I think I can teach as well as anyone," Brown said. "I can win games. I can recruit because I know what it takes to get to the next level and I can be honest with these kids."
Rumors out of Charlotte this fall were that Brown's demanding, exacting style wore on his players and the Bobcats responded well initially when Paul Silas took over from Brown in December. Last season, Brown coached the Bobcats to a winning record and a trip to the playoffs, although they were bounced quickly.
In college, Brown would encounter no such resistance to his teaching style. While the NCAA's quality of play isn't nearly what it is in the NBA, a coach's ability to fashion his team in his mold and impact the lives of his players is significantly greater. That he has already envisioned a situation and a potential coaching staff setup shows that Brown is serious about this undertaking.
There's also the practical matter of the NBA lockout. If ever there was a time for an aging coach to seek refuge in college, this would be it.