The NBA playoffs are here. We've previewed the Eastern Conference. Now here are our picks along with the rest of the CBS NBA staff for you to mock or praise. Be gentle.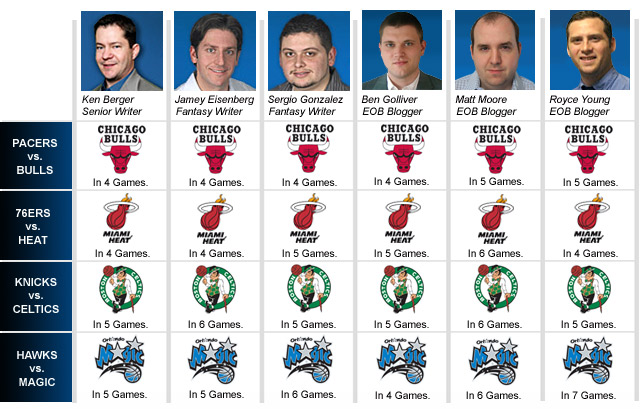 Here are the EOB picks for the Eastern Conference, with a little 'splainin. Leave your picks below.
8 Pacers vs. 1 Bulls
Ben Golliver
: If
Derrick Rose
can walk on water and turn water into wine, surely he can overcome an average Indiana Pacers team that has no hope of stopping him. Of all the playoff series, this one probably has the greatest sweep potential, as the Bulls enter the series fully motivated because they need to establish their post-season reputation ASAP. There's not a single match-up that truly favors Indiana.
Prediction: Bulls in four.
Royce Young:
Almost every matchup favors the Bulls as well as style of play. Indiana will play them hard and probably play them pretty close, but this has sweep written all over it. The Pacers won't do any sneaking up because of Granger's bulletin board material, so their best shot at stealing a game is gone. However, I'd like to think the Pacers will be excited enough to pull one off at home, just to treat the Indy fans.
Prediction: Bulls in five.
Matt Moore:
This should be a sweep. It really should. On the surface it has all the makings. But with the Bulls' offense able to dry up like it can, versus a young and versatile Pacers team with a top flight center and a good point guard, I think the Bulls wind up giving them the gentleman's sweep. It's still a sweep, but you give 'em one, to be polite.
Prediction: Bulls in five.
Ken Berger
:
Roy Hibbert
can make Derrick Rose think twice before driving to the rim, but the Bulls are too good defensively to allow Indiana to mount any sort of a challenge. This will be a test of how serious Chicago is about winning a championship. A matchup like this doesn't deserve any more than their minimum time investment. They'll need to get this over with quickly and get ready for the brutal battles ahead.
Prediction: Bulls in four.
7 Sixers vs. 2 Heat
Ken Berger:
If this were the timid, confused, jump-shooting Heat team we saw earlier in the season, the Sixers would have a chance to make this interesting. But the way Miami is attacking the rim and scoring in the paint, this will be a quick and relatively painless path to the second round. Two things the Sixers have going for them:
Lou Williams
is back, giving them a boost off the bench, and they're one of the top 3-point-defending teams in the league. So there's that.
Prediction: Heat in four.
Royce Young:
The Sixers are long, fast, athletic and can run. The Heat are longer, faster, more athletic and run better. Not good for Philly. There is always a chance things could happen because I think there's a sincere uncertainty about exactly how the Heat will respond to playoff basketball, but Miami just has too much talent for the Sixers. Maybe they can win a game, which I think would be a victory.
Prediction: Heat in four.
Ben Golliver:
The Miami Heat have been up, down and all over the map this season, but they closed strong and draw a match-up against an overachieving
76ers
group whose season will still be seen as a success if they get bounced quickly.
Elton Brand
will be a load, but everyone else is manageable, and Philly just doesn't have the overall offensive chops to keep up with the triad.
Prediction: Heat in five.
Matt Moore:
I flipped on this prediction six times. I started out with your standard 2-2-2 6-game set. Then I went all wacky and went to a seven game series with fans and media talking about how terrible the Heat are, and could they lose in the first round. Then I walked it back to a sweep. Then back to a six-gamer. Then I thought maybe a gentleman's sweep (5 games, you give 'em one out of being polite). But I keep coming back to that Heat team that lost to mediocre team after mediocre team this season. Except Philly. Which either means the Sixers have no chance or they're due. I have absolute faith in Miami winnning. I just have no faith in them winning comfortably.
Prediction: Heat in six.
6 Knicks vs. 3 Celtics
Matt Moore:
The Knicks take two games here because stars step up in the playoffs, and both Stoudemire and Anthony are huge stars. The Celtics are much better but still finding their way. The Knicks defense will show up for 1.5 games, and that plus their offense will land them two games. Anthony is not efficient, but he's going to have a field day with Pierce's defense. Billups will have one big game and so will some other random Knick. That will give them a false sense of hope in New York going forward. Should be entertaining.
Prediction: Celtics in six.
Ben Golliver:
Given how much the midseason trade for Anthony compromised New York's depth, there's a sense that the not yet fully formed Knicks are just happy to be in the post-season for the first time since 2003-2004. The Celtics, meanwhile, aren't playing their best basketball but they do enter the post-season with a greater urgency, given the age and mentality of their core players. The Garnett/ Pierce/ Allen/ Rondo core has defeated far better all-around teams than this year's Knicks, and a B- or better performance from Boston should be enough to see the Celtics through to the second round and a likely dream match-up with the Miami Heat. Prediction:
Celtics in five.
Ken Berger:
Paul Pierce
and
Carmelo Anthony
cancel each other out.
Kevin Garnett
and
Amar'e Stoudemire
cancel (and curse) each other out. Boston's gaping hole at center isn't a big deal, since the Knicks don't have a center, either. So this comes down to how well
Ray Allen
shoots the three-ball, and the point guard matchup. Rondo torched the Knicks during the regular season (though only one of those meetings was post-trade with all the regulars playing). Despite his late-season swoon, Rondo should be in full orchestration mode against the slower, older
Chauncey Billups
. One caveat here: While defense trumps offense in the playoffs, Melo and Amar'e are so scary good that if either one gets on a serious roll, it would change the complexion of the series.
Prediction: Celtics in five.
Royce Young:
Back when the Melo trade finally happened, most people agreed: You don't want these Knicks in the playoffs -- they're dangerous. Are they though? Are they actually dangerous enough with two elite offensive players to push the Celtics? Depends on your definition of "push." I think the Knicks can win two games, but this is Boston's series.
Prediction: Celtics in six.
5 Hawks vs. 4 Magic
Royce Young:
Everyone is picking Orlando -- myself included -- but the Hawks actually won the season series 3-1. But that's being ignored because it's hard to forget what happened last postseason between these two teams. I get the feeling the Hawks are ready for this one and want to prove a little something, but the Magic are much better than they are. I feel seven games though for some reason.
Prediction: Magic in seven.
Matt Moore:
This series will actually be pretty interesting. All the matchups point towards the Hawks being able to make a run and knock off the Magic. But we've seen this kind of situation with the Celtics versus the Heat last year. You have to trust the tested playoff team that's won before. Factor in the chance that Nelson steps up and Howard's ability to take over a game every now and then and the Magic are still the favorites, if for no other reason than their defense. Prediction:
Magic in six.
Ben Golliver:
For a capable,versatile, athletic group, the Atlanta Hawks sure are disappointing. They strike fear in the hearts of no one considering their heartless performance last season. Their uneven, often unmotivated, play under first year coach Larry Drew doesn't bode well for avoiding a repeat of history. This year's Magic are good – not great – but they have more than enough offensive firepower and the best player in the series, by a mile, in
Dwight Howard
.
Prediction: Magic in four.
Ken Berger:
Atlanta won the season series 3-1, in large part because they kept Dwight Howard's damage to a minimum on the offensive end. Of the teams Orlando played four times this season, only Miami held Dwight to a lower scoring average. The Magic are on the short end of defensive mismatches at every spot except center, and even there,
Jason Collins
has done as good a job on Howard as anyone. So why am I picking Orlando? Because Howard will control the paint defensively and the glass, because the Magic are better-coached, and because the Hawks have been so inconsistent lately it's hard to figure out what they are. Also, there's not much home-court advantage in the ATL, and when things start going poorly for the Hawks, they get ugly quickly.
Prediction: Magic in five.