Posted by Matt Moore and Ben Golliver.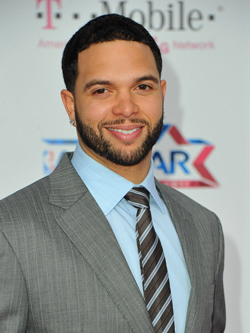 Update (2:43 p.m.):
Ken Berger throws some water on the fun, citing an agent with connections in Turkey
who says "I'll believe it when I see it."


Update (11:00 a.m.):
ESPN.com reported
Thursday that "sources with knowledge of
Deron Williams
' plans confirm his intent to play for Besiktas in Turkey if lockout continues."


Original Post:
A
Turkish television station is reporting
Thursday that Besiktas, a Turkish professional basketball team, has an agreement in principle with Deron Williams to play for them during the lockout.
Yowza.
Williams, who is under contract for 2011-2012 with the New Jersey
Nets
, would have to obtain FIBA clearance before heading to Istanbul. A source informed Ken Berger of CBSSports.com Thursday morning that the Nets had not been made aware of any such offer. That does not preclude such an offer from having been made, just that the Nets aren't aware of such an offer, though you would think they'd have some idea of the legitimacy if things were this far along.
Williams heading overseas would be the kind of substantial move from an All-Star that could actually put the fear of God into ownership. If a wide enough swath of players are able to make decent money overseas during the lockout, that kind of takes the bite out of the lockout, the entire point of this ridiculous power play. Essentially, the owners' ability to starve the union out would be mitigated, even with lesser players unlikely to be offered similar contracts. If enough players can find ways to create income and keep the union's position strong, the owners lose their biggest power position.
The flip side is that Deron Williams is playing in Turkey, though I'm sure Istanbul is very nice. With a wife and new daughter, that can be draining in terms of travel, though probably not moreso than the normal amount of travel he does during the course of the NBA season. Additionally, television reports of this nature are often sketchy and it wouldn't be the first time an international team has leaked information about a possible signing of a major American player before the chickens were hatched. We'd advise a healthy dose of skepticism here.
Williams would join
Allen Iverson
among point guards labeled (under false pretenses or not) coach killers who have played in Turkey for Besiktas. FIBA has not released an official statement regarding their plans for clearance during the lockout.
(HT:
IamaGM.com
)