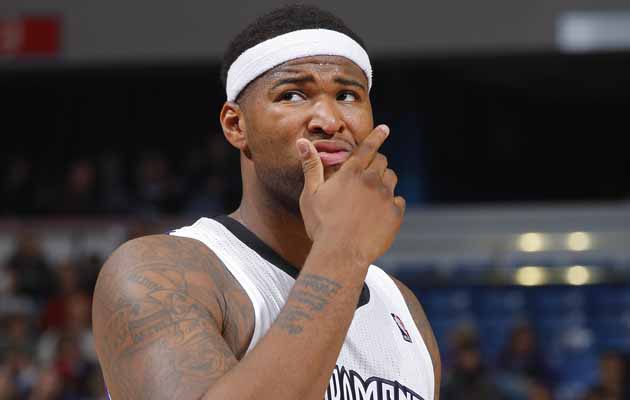 By Matt Moore
UPDATE:
According to SI.com
, the Cousins will re-join the
Kings
on their upcoming road trip to Memphis and Denver.
Despite the explosive situation between
DeMarcus Cousins
and head coach Paul Westphal, Kings ownership says it will not trade the temperamental but talented young power forward, ownership told the
Sacramento Bee
.
"We leave that stuff (the benching) to the basketball people," Kings co-owner Joe Maloof said before tipoff, "but we're not trading him."
via
Ailene Voisin: Situation is 'tip of the iceberg,' coach says, so where is the rest? - Sacramento Sports - Kings, 49ers, Raiders, High School Sports | Sacramento Bee
.
The Kings not trading Cousins is the proper path. There's absolutely no way to get adequate value after releasing a statement of the nature of Westphal's. They have a player they don't feel they can control, and with Cousins' talent, they can't simply dump him off, especially with the struggles of the team thus far this season.
As for Westphal, he spoke to reporters prior to the Kings' game against the
Hornets
. Kings blog
Cowbell Kingdom has video
, and the comments are pretty interesting.
Something that stands out here, is this quote from Westphal (transcribed by Cowbell Kingdom):
"Well, it's interesting that he told me before he told his agent, but he told me twice. So it's silly to have the agent deny it just because he didn't get a call before DeMarcus talked to me that's the easiest one of all to answer."
Westphal is explicitly claiming that the trade request was legitimate and that Cousins simply hasn't informed his agent, rather than his agent's interpretation, which is that Cousins was saying, in effect, "If that's the situation, then trade me" which is different from a trade demand. We're talking semantics here, but they're important on all sides.
It's also notable that Westphal says that to solve the situation, Cousins needs to do some soul searching. There's explicitly no claim of responsbility for the situation on Westphal's part. Which, if the situation is as bad as Westphal claims it is, isn't necessarily a fault. But it sets the table for how this situation is developing, which is that the coach feels this is all on the back of Cousins and not a two-way communication issue.
Tom Ziller at SBNation.com notes
that the fact that the Kings did not suspend Cousins, instead just "sending him home," speaks to how the organization is being run. A suspension escalates the situation as it restricts his pay and can be appealed by the NBPA.
After this many incidents, however, at some point the Kings are going to have to face the situation head-on. Either Cousins is a part of the team's long-term future, or Westphal is. Because its hard to see either Cousins or Westphal changing their path at this point. It's not resolving itself, and even if Cousins is lacking in maturity, painting him into a corner this way isn't going to do anything to foster an environment of growth. Cousins may be too much of a problem to keep, but he's too talented to let go.
The Kings, for the moment, are stuck.
Here's reaction to the situation from Kings players after the game,
courtesy of Cowbell Kingdom
. There's a wide range of comments here, with the Kings players showing the kind of professionalism that Cousins needs to learn, even if Westphal is handling the situation badly (which is certainly up for interpretation).
Yahoo Sports reports
that Kings players have been irritated with Cousins' behavior for some time, with one source calling him "a bully."