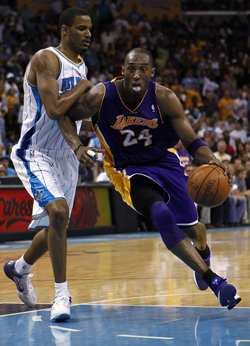 A-Rod says Kobe Bryant almost retired last summer.
(Getty Images)
By Matt Moore
Yankees third baseman Alex Rodriguez told reporters on Saturday night that
Kobe Bryant
almost retired because of the pain in his right knee, until he had
the experimental procedure performed in Germany
done,
which he advised A-Rod to also have
. From the
Los Angeles Times
:
Yet, Yankees third baseman Alex Rodriguez told reporters Saturday that Bryant told him the pain in his right knee and ankle felt so overwhelming that he considered retiring. That is, until an innovative procedure in Germany this off-season on both his right knee and left ankle fixed everything.

Bryant "was really adamant about how great the procedure was for him," Rodriguez told reporters. "I know that he was hurting before, almost even thinking about retirement, that's how much pain he was under. And then he said after he went to Germany he felt like a 27-year-old again. I was still a little apprehensive about it and he kept staying on me about it."
via
A-Rod: Kobe Bryant considered retirement last season - latimes.com
.
Can you imagine if Bryant had retired after last season? That his last moments on an NBA floor could have been the sweep from the
Mavericks
? Instead, the 33-year-old leads the league in scoring, and has scored over 30 points 13 times this season. The
Lakers
very much remain in position to contend for the West despite front-office turmoil and a disappointing perfromance from his supporting cast, and Bryant is a huge reason why.
Bryant became the all-time leading scorer in All-Star Game history Sunday, and passed Shaquille O'Neal on the NBA regular season all-time scoring list earlier this year. In the past three years, he's played his way through torn ligaments in his finger and wrist, severe pain in his knee, twisted ankles, and a
broken nose and concussion
. The words you're looking for are "tough as nails." That we almost lost a giant in this game like that too early in his career is terrifying. Instead, Bryant looks prepared to light up the scoreboard for another half-decade or more, and has talked about wanting to play till he's 40.
Let's be thankful we get a few more years of prime Bryant.