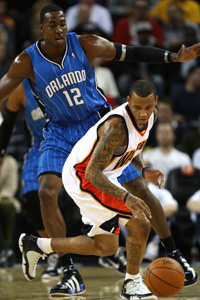 The Warriors reportedly continue to pursue Dwight Howard.
(Getty Images)
By Matt Moore
The Warriors, reportedly, are not messing around.
Golden State has long been rumored to be chasing
Dwight Howard
, despite his exclusion of the Warriors from his team of preferred trade destinations (read: places he will consider re-signing with). What's more, Golden State has been rumored to be interested in trading for Howard without assurances he'll stay. That's the ultimate Russian Roulette gamble. If you miss out with convincing Howard, you will have traded everything you have and have nothing to show for it. Talks had died down in the din of
Nets
chatter that continues. But a report today from NBA.com says that the Warriors aren't done chasing the rabbit down the hole.
From Scott Howard Cooper of NBA.com on Twitter:
Warriors continuing push for Dwight Howard deal even without DH commitment to re-signing. Not backing off from risky move, source says.
via
Twitter / @SHowardCooper: Warriors continuing push f ...
.
Biedrins has zero trade value, so GSW offer has to be 3-4 key pieces. Imagine moving Monta, Klay, others and DH walks. But Dubs staying in.
via
Twitter / @SHowardCooper: Biedrins has zero trade va ...
.
Monta Ellis
is a very good player, if not a "star" or "superstar."
Klay Thompson
looks to be a great rookie. They have
Ekpe Udoh
as a talented young big man along with Biedrins' expiring contract. The
Magic
have reportedly wanted to stay in the playoff hunt, which means they want talented veterans, though,and outside of Ellis, the Warriors are short on that. That's what makes the Magic request so baffling, that they wouldn't be trying to work away to get
Stephen Curry
, draft picks, and Udoh out of Golden State.
And all of this for a situation in which Howard could vanish outright. It's a monstrous gamble. But let's look at the best-case, worst-case scenario here.
Best-case: Howard and Ellis/Curry click. Howard finally has a co-star worthy of his stature while he's also clearly the alpha dog. The Bay Area market allows for him to cash in on endorsements and media opportunities, while enjoying the California weather, even if it's a bit colder and ranier than southern California. Mark Jackson gets the defensive rock he covets, ownership gets a star to build everything around. Shooters plus creator plus Dwight = success. They hold his bird rights which means Howard has to walk away from the $30-million-plus afforded him in re-signing with his current team in free agency. That's a big stone to hold.
Worst-case: Howard leaves, and the gap from the assets traded for him creates an unbalanced roster full of misfits who have to be traded off. Meanwhile, the organization clears over $15 million in cap space and has the ability to clean house on a team that has been fundamentally flawed for the past decade, cycling in the same style of players. A clean slate erupts, with the worst part being a potentially unhappy Curry/Ellis but the Warriors now have unlimited flexibility to retool their roster.
Is drastic change that bad of a worst-case scenario? If Howard and Ellis/Curry works, he could very well stay, and that's great. If it doesn't, he leaves anyway and the Warriors start over again which they've needed to do forever, and that's great. It would look bad, and would create a painful rebuilding process. But if you want to make an omelet you have to break a few eggs. A move like this would prove the new ownership really is the kind of bold leadership they say they are, unwilling to stand on the sidelines while other teams make the franchise-changing moves.
It's just a question of how brave are they, and if Orlando will finally bite the bullet for their offer.