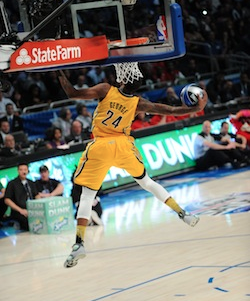 Even Paul George wasn't a fan of the dunk contest. (Getty Images)
Posted by Royce Young
The 2012 Dunk Contest? Not exactly a smashing success. Kind of hard to be when pretty much everyone is using it in a sentence with words like "worst" and "ever."
Kevin Durant
sounded off
saying stars need to participate as well
as
a bunch of other players saying things about how rough it was
. One person that maybe you didn't expect to say it wasn't great though? One of the participants. But here's what Paul George told
the Indy Star
:
"(Not to) take nothing away from the dunk contest, (but) it was a joke," George said. "I guess whoever had the biggest celebrity involved in their dunk was going to be the winner. I guess I should have tried to reach out to some people.

"If you leave it up to fans, they probably wouldn't have known who Larry was. I think I was destined to lose it."
George only used one gimmick in the contest, and it was a pretty good one. His human glowstick dunk was creative, original and pretty spectacular. For the others, he jumped over 7-2 Roy Hibbert and put a sticker of Larry Bird on the backboard.
His frustration stems from the winner, Jeremy Evans, using comedian Kevin Hart in his Mailman dunk. Evans won the contest despite having maybe the worst dunk in contest history, one that used a camera and was completely boring.
George agreed with Durant too:
"I agree, you have to have the faces of the league come back and get involved in it," George said. "That's what really made it big back in the day when you had Jordan and Dominique going at it. That was the All Stars and the guys that were the men in the league. That's what fans want to see."
I wouldn't mind seeing George again. If he had made that sticker dunk, he would've had a solid night. Coming up with three inventive dunks isn't easy and we're all way too critical of the contest. But I agree -- get the celebrities and stuff out of it. It's a copout instead of using creativity and skill.
Via I Am A GM