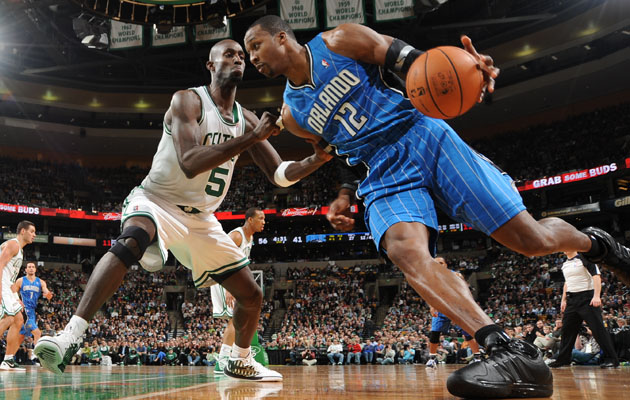 Howard says he would consider playing for Boston.
(Getty Images)

By Matt Moore
OK, so now all of a sudden Dwight's OK with Boston. This is getting hard to keep track of. For months, it's been assumed that Howard would not consider Boston on his list of teams to go to. Multiple reports have indicated he's expressed that he will not re-sign there if traded to the Green Team. But now there's different information... from Howard's own mouth.
And if Howard is still available — if the Magic don't blink and move him before the March deadline — C's president Danny Ainge will undoubtedly put in a call to Team Dwight.

The question is whether he'll answer.

"Always. Always," Howard told the Herald. "I'd always listen to a team like that.

"My thing is I want to win. It's not something like I'm doing this for money. I win. I want to do it my way."

There may be two problems for the Celtics in that last paragraph. Howard may question whether the club can win with him, Rajon Rondo, Paul Pierce, a collection of minimum salary veterans and a few children. And his "way" likely means a bigger stage.
via
Dwight Howard
to Hub? - BostonHerald.com.
This does not mean that Boston is at the top of, or near the top of the list for Howard. He's made his choices pretty clear. But Boston has continually dogged him in the playoffs. Joining them would be joining an organization all about winning, who he knows will be able to build around him. He'd likely have Rajon Rondo as well, since the trade package would probably include the Big 3. The Magic have reportedly been looking for veteran players who can help them win now instead of younger players. If they want old guys, Boston's got them.
(Side note: Please try and imagine Rajon Rondo's surliness next to Dwight Howard's effusive jolliness. Unintentionally funniest duo ever.)
But Howard hasn't been all about winning. He's not targeting Chicago, which gives him the best chance to win a title. He clearly wants the money and fame that comes with Los Angeles or New York. If winning is what matters, you don't put the
Nets
at the top, no matter how good
Deron Williams
is. The Celtics are a long shot, but Howard would listen to the offer. From there it would come down to Danny Ainge and if he could pull off the sales job of his life.
(HT:
SI
)