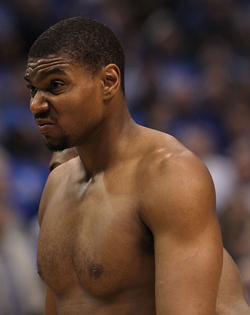 Posted by Royce Young
Here you go
Lakers
, the NBA's throwing you a bone after that whole
Chris Paul
thing.
The league announced Friday that
Andrew Bynum
's five-game suspension for trying to decapitate J.J. Barea in the playoffs has been reduced to four games because of the shortened season.
Charlie Villanueva
, who was serving a five game suspension as well, will have his reduced to four too. Villanueva was suspended five games last season for an altercation with Cleveland's
Ryan Hollins
, but only has to serve three more games as he already sat out one last year.
It's a completely fair move by the league, as a five-game suspension in a 66-game season equates to a little more than six games in a regular 82-game season.
Pretty important development for the Lakers though, as Bynum's suspension could've potentially started the team out in a bit of a hole. Kobe's got an injured wrist, there's no
Lamar Odom
to fill in at power forward while
Pau Gasol
plays center, so without Bynum, the Lakers could really be hurting. While he still have to miss four, just getting one back is a nice Christmas present from the league.