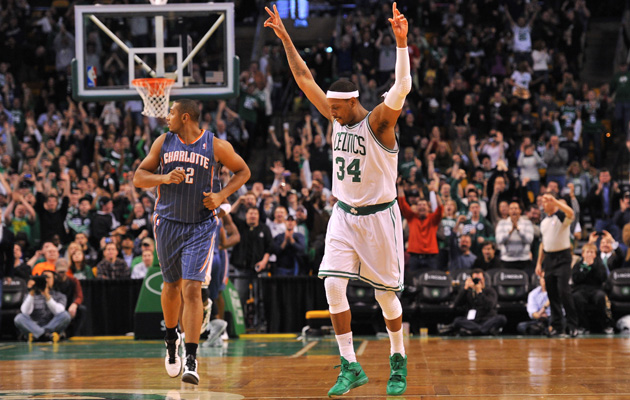 Paul Pierce took over No.2 on the Celtics' all-time scoring list and the Celtics improved to 14-10.
(Getty Images)
By Matt Moore
Each night, Eye on Basketball brings you what you need to know about the games of the NBA. From great performances to terrible clock management the report card evaluates and eviscerates the good, the bad, and the ugly from the night that was. We want to hear your grades of the night on
Twitter at @EyeOnBasketball
.

| | | |
| --- | --- | --- |
| | Paul Pierce | On a night where Pierce passed Larry Bird on the Celtics' all-time scoring list, the Truth was doing everything for the surging Celtics. His shooting percentage was nothing great, but 8 rebounds and 9 assists with just two turnovers to go with 15 points is excellent work. Pierce took a step up the Green's list of point producers, but it's his overall play that makes him a Celtic legend. Tuesday night showed why. |
| | Indiana Pacers | Played like warrior gods for about 34 minutes. Then utterly collapsed against the power of Paul Millsap while Frank Vogel hung out his second unit to dry. Then managed to slam the door shut thanks to what got them the lead in the first place. When the Pacers are clicking, they can be dominant, but this team is built with too many hustle defenders on the bench and not enough scoring. George Hill's absence hurts, but it goes beyond that. They might consider getting a backup scorer at the deadline. At the same time, a quality win against a good team. |
| | Minnesota Timberwolves | The Kings are more game to fight under Keith Smart, but this still should have been a more comfortable win at home. Then again, they didn't have Kevin Love. So basically, they pass, but next time maybe a little better shooting than 41 percent against a horrid defense is in order. 14 assists for Rubio in the win. |
| | Kings final possession | All you have are perimeter scorers. All you have are ISO guys. You don't pass well. I'm one of the guys who rails against the ISO-Final-Possession culture in the NBA, but in that situation, down two, give the ball to Thornton or Evans and let them do work out of Isolation. Instead the Kings tried to get inventive and cute. Not a good look. Honestly, DeMarcus Cousins should not be on the floor at the end of the game for the Kings right now. 22 for Thornton in the loss. |
| | Tyrus Thomas | 20 minutes. 1-6, 3 rebounds, 1 block, 1 foul, -12 for the game and got into it with Paul Pierce on the night he passed Bird on the Celtics' scoring list. Remember when he was going to be a difference maker? |
E FOR EFFORT
LeBron James (24 points on 16 shots, 5 boards, 6 assists, 2 steals, excellent passing to close out the Cavs.)
Derrick Brown (10-10 from the field, 20 points, 4 rebounds)
Darren Collison (10-14 from the field, 25 points, 4 rebounds, 5 assists, 0 turnovers)