Posted by Ben Golliver.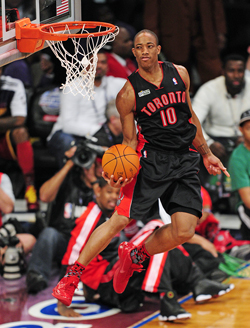 Toronto
Raptors
forward
DeMar DeRozan
is a native of Compton and a veteran of the esteemed Drew League, the West Coast's best known summer league circuit.
On Saturday, DeRozan had the chance to pull out a last-second win in a Drew League playoff game for his Go H.A.M. team. Instead, he was at the center of a mini-controversy that resulted in a tossed ball, a bumped referee and a bunch of yapping.
Here's how it went down. Go H.A.M. trailed a Long Beach team named Problems 85-84 with six seconds left. DeRozan took a side inbounds pass near the three-point line, drove hard right into the key and contacted a rotating help defender while putting up a runner. The runner bounced off but was dunked in by one of DeRozan's teammates on the put-back. That potentially game-winning basket didn't count, however, because a referee whistled DeRozan for a charge on the play. (See video of the play below.)
Play continued with Problems hitting two free throws. Go H.A.M. wasn't able to get up a game-tying three-pointer on their final possession and time expired, giving Problems the 87-84 victory. After the buzzer sounded, DeRozan made a point to track down the basketball, which he heaved across the court in frustration. Moments later, one of his teammates charged at the referee, body-bumping him with a fair bit of force, causing the official to stagger backwards but not fall to the ground. The teammate was eventually restrained after some further barking. (See video of the exchange below.)
On Sunday, DeRozan owned up for his part in the fracas
on Twitter
. "I want to apologize for my actions at the Drew League today," DeRozan said. "I got caught up in the
Heat
of the moment, but should've handled it better."
He also expressed his appreciation towards the Drew League. "Shout out to the Drew League for providing a great atmosphere for basketball," DeRozan said. "Appreciate the opportunity to play there!"
The incident comes just days after Minnesota
Timberwolves
forward
Michael Beasley
pushed a fan in the face
at a New York City streetball game and Los Angeles
Lakers
forward
Matt Barnes
punched an opponent
in a San Francisco pro-am game.
DeRozan averaged 17.2 point and 3.8 rebounds in his sophomore season for the Raptors last year.
Here's video of DeRozan being whistled for the charge
courtesy of YouTube user dominator2800
.
Here's video of DeRozan flinging the ball and the referee getting bodied
courtesy of YouTube user timbojimbo
.
Hat tip: ProBasketballTalk.com.