Posted by
Ben Golliver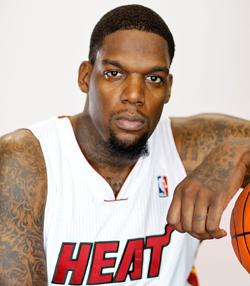 In what is surely the most anticipated moment of the 2011-2012 NBA season, veteran center
Eddy Curry
could reportedly make his season debut for the Miami
Heat
on Thursday.
The Palm Beach Post reports
that Heat coach Erik Spoelstra said Curry could "possibly" make his debut in a nationally-televised Thursday night game against the Los Angeles
Lakers
.
Curry, 29, has battled chronic weight problems -- reportedly pushing past 400 pounds -- and has not played in an NBA game since December 17, 2009. He was traded by the New York
Knicks
to the Minnesota
Timberwolves
in February 2011. The Timberwolves promptly bought him out and he began embarking on a weight loss program with trainer Tim Grover that eventually helped him
land a roster spot
with the Heat during the December 2011 free agency period.
The paper reports that Curry will not reveal his current weight.
How light? He still won't say.

"I stopped keeping track," said Curry, who has played just 10 games the past three seasons. "It's a great number, but it's not where I want it to be. When it is, I'll put a sticker on."
FoxSportsFlorida.com reports
that Curry is getting excited.
"I can definitely touch it. I can feel it," Curry said of whether the light is at the end of the tunnel regarding his comeback. "This is when you got to push hard. You got to push through it. You got to expect setbacks because nothing is going to be easy. I'm going to continue to push through it and persevere."
Curry has posted career averages of 13.3 points and 5.3 rebounds in 25.4 minutes per game during his 9-year NBA career, which has included stops with the Chicago
Bulls
and Knicks.
The Heat also returned forward
Mike Miller
to the lineup on Tuesday
after he missed the first three weeks of the season following sports hernia surgery.