Posted by Ben Golliver.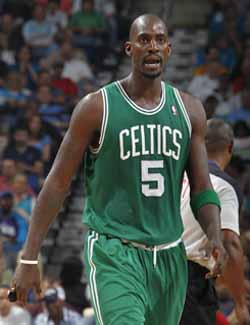 Basketball never stops during the NBA lockout, or so they say, and neither, apparently, do Boston
Celtics
All-Star forward
Kevin Garnett
's on-court antics.
Garnett, who has barked like a dog on the court, made his teammate cry on the bench, allegedly called an opponent a "cancer patient" and wasted hundreds of thousands of words nonsensically trash-talking anyone that comes into his vicinity, was up to his same old song and dance during a recent pick-up game in Southern California.
Yahoo Sports reports
that Garnett got physical with second-year Washington
Wizards
guard
Jordan Crawford
.
His indoctrination has come against old pros like Billups, yes, but with Kevin Garnett in the gymnasium, too. On this day, everyone was still buzzing over Washington Wizards guard Jordan Crawford's mistake of talking too much to Garnett a day earlier. When Boston Celtics teammate Paul Pierce tried to do Crawford a favor and push him away, Crawford urged Pierce to let K.G. go.

"I thought they were just kidding," Rubio says, and maybe Crawford did too.

There are hard lessons to be learned in this league, lockout or not lockout. Eventually, Garnett reminded Crawford about that with a smack upside his head, a reminder to Crawford, Rubio and the rest of them: Elders will be respected.
The Washington Post reports
that Crawford and an observer had a slightly different version of events.
When asked about the incident, Crawford wrote back in a text message that nothing happened and added, "Stop believing everything you read."

A person who was at the gym in Reseda, Calif., that afternoon also played down the incident, explaining that neither side really wanted to fight but added that Crawford refused to back down to Garnett.

The person said Crawford started yapping because his team was winning handily. Garnett got upset and two players shoved each other before Pierce held back Crawford. When Pierce let go, Crawford squared up with Garnett, then turned and walked away. Garnett tapped Crawford in the back of the head and Crawford went back at Garnett before cooler heads prevailed.
Normally, I would be the last person to condone Garnett's tired act, but this has karma coming to call written all over it. Crawford, a 23-year-old rookie who averaged 11.7 points and 2.8 assists per game last year, recently had the audacity to suggest that he believes he can be the greatest basketball player of all time.
"I don't tell nobody, but I feel like I can be better than Michael Jordan," Crawford
said in October
.
The NBA universe spends way too much time caring about veterans initiating younger players into the league's culture and history. Yes, dues need to be paid, but they almost always are, and most young guys who don't get in line don't last very long in the league. But Crawford definitely needed a reminder of his place in the pecking order, a clear message that it's OK for an average player to
want
to be better than Michael Jordan but that it's not OK to say that you
can
be better than Michael Jordan. It's a subtle difference, sure, but it's one worth standing up to protect.
A vast majority of the basketball world wanted to chin-check Crawford after he made that silly rookie mistake declaration. It sounds like Garnett just beat everyone to the bunch.