Posted by
Ben Golliver
.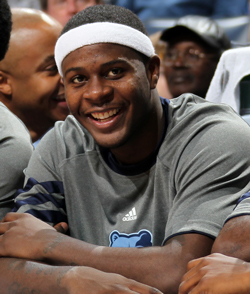 Rookie
Josh Selby
entered the NBA with some baggage, and he didn't make it one game before getting into his first off-court incident.
The Memphis Commercial-Appeal reports
that Selby, a second round draft pick of the Memphis
Grizzlies
, was hit with a "misdemeanor marijuana possession charge" following an October incident in Maryland.
Grizzlies rookie guard Josh Selby is facing a misdemeanor marijuana possession charge after police found probable cause during an Oct. 5 incident at the University of Maryland.


"I have no comment about it," Selby said. "It is what it is."

Maryland makes a distinction between marijuana and all other illegal drugs. Possessing or using marijuana is punishable by up to one year in jail and a $1,000 fine.
The paper reports that his court date is in late-January and that Grizzlies GM Chris Wallace will "withhold judgment" until that time. Because the incident occurred during the lockout, Selby should be free and clear of an NBA punishment.
Selby, 20, was considered a first round talent but slipped to the No. 49 overall pick in the 2011 NBA Draft because of an assortment of red flags. During his one year at Kansas, Selby was
suspended 9 games
for taking thousands of dollars worth of impermissible benefits, he
suffered a foot injury
and there was an unsubstantiated
rumor of a disagreement
with coach Bill Self.
A talented and lightning-quick scorer, Selby is averaging 4.5 points and 2.8 assists per game in four appearances off of the Grizzlies bench so far this season.
Hat tip: HoopsHype.com