By Matt Moore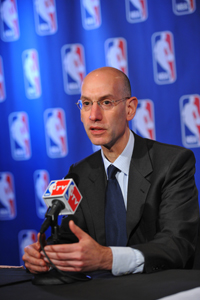 Adam Silver could be pulling the strings at the next CBA negotiations. (Getty)
BOSTON -- Adam Silver appeared Friday as a panelist for the opening session of the
Sloan Sports Analytics Conference
. During the conversation on the panel of "In the Best Interest of the Game: The Evolution of Sports Leagues" Silver was asked about the keys to the league's success in the recent labor negotiations, and referenced "transparency" as a key. Which is kind of interesting.
Silver specifically said that the league's opening of their books to the players was crucial to the league's approach. Personally, I thought starving the players off their paychecks for two months was helpful, too, but sure, whatever. That issue was hugely contested throughout the lockout, as
the league continuously held back releasing its figures
. When the league later did "open the books," the players heavily disputed how their figures regarding losses were calculated. A
Forbes report also disputed
the NBA's conclusions. The league went on the offensive to defend their assertions of losses and presented a compelling case in some of the most open discussion about the realities of the league's financials we've seen.
Why is this relevant?
We're nearly four months out of the lockout, and the battle is still being waged with the same talking points. Silver referenced the possibility of being back at the table in six years, when both the NBA and NBPA have an opt-out which could drag professional basketball back into lockout hell once again. Silver repeated the same tenets we heard throughout the lockout from Silver, but in this session, there wasn't the edginess we saw after the tense hours at the negotiating table over the summer and fall. Silver impressed with his command of the talking points while also conveying something we hadn't seen from the league in several months, empathy, for the owners, players, and fans.
Silver noted that after the lockout's resolution, there seemed to be "very little acrimony" between the owners and players.
We'll see how true that is in six years, when it could be Silver leading the league for the first time as both its head negotiator and public face. If Friday is any indication, the players should be prepared for an even tougher opponent should that acrimony miraculously return.