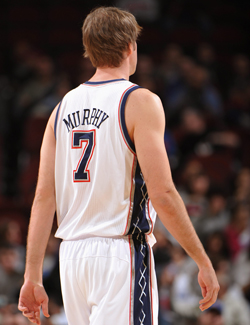 By Matt Moore
The Los Angeles Laker s signed forward
Troy Murphy
Saturday to bolster their frontcourt bench left weakened by the trade of
Lamar Odom
to the Dallas
Mavericks
. Murphy, 31, was bought out by the
Nets
last spring and signed with the Boston
Celtics
in what was thought at the time to be a shrewd move to potentially put the Celtics over the championship hump. Instead, Murphy underperformed and played limited minutes due to injury, and played just one game for three minutes in the postseason.
If healthy, Murphy could help the
Lakers
as a do-it-all veteran with savvy. If out of his depth and still hampered by injuries, he is unlikely to make much of an impact even on a team facing significant problems past its starting front line.
****************
The Sacramento
Kings
claimed forward Travis Outlaw off the amnesty wire Saturday. Outlaw had a massively disapponting first year in New Jersey after signing a five-year, $35 million contract in 2010. The Kings have faced a serious absence at the small forward position since trading
Omri Casspi
last spring.
John Salmons
can spend time there but is under-sized.
Under amnesty rules, the Kings were allowed to claim Outlaw because of their cap space (only teams with cap space can bid), and their bid will count against their cap while the remainder will be paid by New Jersey and will not count against their cap. Outlaw played significantly better in Portland and maybe a return to the west coast will improve his play. Outlaw had wrist surgery this summer but has been cleared for contact
according to SI.com.