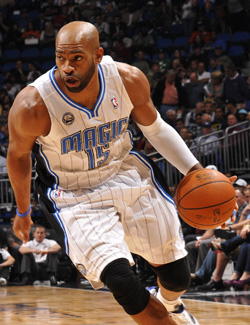 Your NBA Black Friday Fantasy deals: come find the bargain fantasy guys you're looking for.
Posted by Kevin Goodwin
Well, folks, it's that time of year again. The day we shake off those paralyzing turkey chemicals and drag ourselves out of bed in the wee hours. The day we maraud from store to store like a pack of ravenous credit-wielding zombies. The day we do the ridiculous in the name of big deals and unparalleled savings. Black Friday hath cometh.
Fortunately, Fantasy owners don't even have to leave their couch to find great bargains … and it's the right time of year for those as well. I've got 10 super-saver steals that could put your team on the track to success in the New Year. Don't let those other fantasy shoppers beat you to the bargains!
Fantasy Shopping Cart: Calderon's Fantasy value is sky high, and Fantasy owners are clearing out long-term roster space to snatch him up. Since Jarrett Jack was traded to New Orleans, Calderon will see the lion's share of minutes up in Toronto. He has been producing at a high level recently, and is averaging 12.3 points and 6.5 assists over his last four games entering Black Friday. He should continue to perform for the Raptors, and for Fantasy owners from here on out.
Real Deal Equivalent: Squinkies Bubble Pack - $11.99 at Babies"R"Us
They're definitely not the most glamorous item on the list, but are widely considered to be one of the hottest grabs of the season. It's kind of like the Furby toy from a few years ago, except they're supposedly very collectable to kids, and will likely be worth holding on to for the long haul.
Fantasy Shopping Cart: Flynn still doesn't have a timetable for his return, but it's getting closer. Minnesota brought in veteran guard Luke Ridnour to push Flynn for the starting job this year, but a hip injury to Flynn deflated any competition. Now, Flynn will have to prove his worth to coach Kurt Rambis. We all know Rambis was limiting Kevin Love's minutes to start the season, so it's unclear how he'll treat Flynn when he does return. But Fantasy owners who are hurting in the guard position should keep an eye on Flynn. He has more of an upside than Ridnour, and can offer you around 13-15 points and 4-5 assists per game. He also shot 35.8 percent from downtown last season, which is a nice gift for Fantasy owners around the holidays.
Real Deal Equivalent: 1/3 Carat Diamond White Gold Bypass Bridal Ring Set - $219 at Wal-Mart
Gets the job done... and looks enough like the high-end alternatives when the time comes to take it out of the box. Plus, it'll be easy to cry poverty when you're dealing with those pesky alimony hearings.
Fantasy Shopping Cart: Murphy has been inactive for five games now, and is sitting behind Kris Humphries and rookie Derrick Favors on the depth chart. Coach Avery Johnson hasn't been able to figure out what to do with Murphy. He missed the preseason and the start of the regular season with a back injury, but is now on the shelf because of his conditioning. The Nets traded for Murphy with the hope that he could be a starter, and now he's not playing or bringing in any Fantasy points. Not what anyone wants from a Round 5 or 6 draft choice (his average in CBSSports.com Fantasy leagues). Still, in leagues where he's available, Murphy would be worth grabbing while you can. If he gets traded by the Nets, he could go back to his 15-10 stat line, and smart Fantasy owners could get him on the cheap if they can afford to keep him reserved until he sees more court time. Keep in mind, Murphy also has a history of late-season success -- Since the 2006-07 NBA season he's averaged 11.7 points and 8.7 rebounds per game before the All-Star break and 14.8 PPG and 9.1 boards post All-Star.
Real Deal Equivalent: Samsung SMX-F40 SD camcorder - $119 at K-Mart
Sure, it might not be something you're going to use all the time, but when the battery is fully charged, this baby could come in pretty handy. Just think how useful it could be when one of your buddies falls asleep in the middle of a party. Youtube!
Fantasy Shopping Cart: Okur hasn't played yet this season, and is available in almost half of Fantasy leagues. With the Jazz playing so well to start the year, owners with room on their roster may have good reason to add the veteran big man. As a career 37.8 3-point shooter, Okur is hardly a typical center, which makes him a nice player to own in category-based leagues. Utah's addition of Al Jefferson may scare some owners off, but nabbing Okur now before a timetable is set could pay nice dividends.
Real Deal Equivalent: Yankee Candle Pine & Cinnamon Jar Candles - $17.99 at Kohl's
Maybe you didn't have time to cut down a premiere 7-footer in the draft. Maybe you're just desperate to hide the despicable funk emanating from those 1997 Jordans that can't seem to find their way to the trashcan. Either way, this is a great way to Spruce up your lineup for the winter run... terrible pun, definitely intended.
Fantasy Shopping Cart: Przybilla is set to make his season debut on Black Friday, which gives Fantasy owners a perfect opportunity to check him out. He'll likely be rusty coming off knee surgery, but is a center worth keeping tabs on or adding in deeper formats. He doesn't score many points, but is a good source of rebounds and shoots with high efficiency from the field -- 55.5 percent for his career. Also, take in to account that Portland needs bodies on the frontcourt, which means Przybilla will get plenty of playing time. Remember he should be targeted in deeper Fantasy formats, not standard leagues.
Real Deal Equivalent: Craftsman 179cc 24'' Two-stage Snowblower - $583 at Sears
Powerful, but a little one-dimensional. Still, winter can be long and arduous, as can the NBA season. Finding a bargain like this could be the easiest way to clear your path to the playoffs.
Fantasy Shopping Cart: Butler isn't having a very good start to the season, which means now is the time to buy. Some Fantasy owners may want to drop him, but realize he's worth too much to just throw away. That being the case, they may be willing to part with Butler for next to nothing. He hasn't fully adjusted to being in Dallas since coming over from Washington, and the one thing that would help Butler's Fantasy appeal most is being traded. So, owners that like to gamble could make the move for Butler now. Last year, Butler averaged 15.2 points and 5.4 boards with the Mavericks, so the potential is there for Fantasy owners to see a nice return on their investment.
Real Deal Equivalent: 55" Westinghouse 120Hz, 1080p LCD TV - $799.99 at Best Buy
Still a great grab if you need to upgrade. Sure, it may not shine as brightly as LED or have the pop of 3D, but, a few years ago, this was a top-of-the-line model.
Fantasy Shopping Cart: Roy should be owned in every Fantasy league out there, but while he battles knee injuries, owners are definitely grinding their teeth for drafting him so high. Some owners may be looking to jump ship, since this is the lowest Roy's Fantasy value has ever been, and that means it's the perfect time to get an upper echelon guard for dirt cheap. If you can pry Roy away from another owner, there's a good chance he would make your team better immediately. Portland may limit his court time to preserve him for the year, but Roy has the ability to produce solid numbers in 20-25 minutes of action.
Real Deal Equivalent: High-Performance Samsung Laptops - $150 off at Best Buy
Yeah, you may have to open up your wallet if you want to bring home a big toy like this, but it's definitely a great option if you want to get some high-caliber equipment without paying full retail.
Fantasy Shopping Cart: Collison was undoubtedly overvalued entering this year. He was taken with an average draft pick of 40, based solely on his 18.8 points, 9.1 assists and 3.5 rebounds as a starter last year in New Orleans. This means that current owners are probably very disappointed with his 14.3 points and 4.3 boards per game through the first five weeks of the season. I smell a sale. Collison still has the potential to be a 17 and 7 guy, and owners should check their league and see if they can strike up a deal.
Real Deal Equivalent: All adult jeans - $15 at Old Navy
Not exactly the designer dungarees you might find in a Madison Avenue boutique, but a reasonably stylish alternative for the price. Let's face it; you could easily pay twice as much any other time of year. Yeah, I used the word "dungarees". No, I'm not a septuagenarian
Fantasy Shopping Cart: Carter is currently dealing with some bumps and bruises which are keeping him out of the Magic lineup. He's also averaging career-lows in points, rebounds and assists: 13.9, 3.2 and 2.5, respectively. Clearly, Carter is no longer the high-flyer he once was, but he does have the capability to go off on any given night. Again, we've got a player who could be reeled in for cheap based on the disappointment tied to inflated preseason expectations. If you don't mind being patient with the veteran, trading for Carter could be a steal.
Real Deal Equivalent: Radio Flyer Big Wheel - $35 at Wal-Mart
Yeah, we all remember how awesome these were when we were kids. Of course, back then, a few rocks in the tires would only help you sound cooler when you peeled out down the driveway. It's a sentimental choice, I know, but you can't look past the classics when you're in the market for a dependable option.
Fantasy Shopping Cart: Andersen just made his season debut for the Nuggets, which is why he's available in 90 percent of CBSSports.com Fantasy leagues. He's coming off an offseason knee surgery, so he's a bit of a risky option, but there are definitely Fantasy owners out there who are in desperate need of a big man. Injury bug, anyone? Those owners might be happy to see Andersen fill a void in their lineups. He's not worth owning in standard leagues, but is definitely worth a flier in deeper Rotisserie formats. He's a bargain and a half right now.
Real Deal Equivalent: 46" APEX LCD TV, 1080p 60 Hz - $449 at Target
Absolutely jaw-dropping color. And, while it's not the most recognized brand on the market, it's got some versatility -- Size enough to hold it down in the living room, and could be a huge addition to a bedroom-sized fantasy lineup.