Posted by Ben Golliver.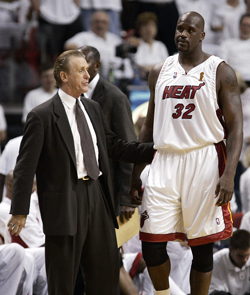 Shaquille O'Neal will be remembered as one of the NBA's greatest players, but his ugly exits from city after city caused plenty of controversy and wound up staining his legacy and lowering his career ceiling.
The scorched earth farewell from Orlando and the
battle of egos
with
Kobe Bryant
that led to his departure from Los Angeles are well-known. But there was also the move from a title-winning Miami
Heat
squad to the Phoenix
Suns
, a blow-up that might not have attracted as much attention because O'Neal was already past his prime, but nevertheless had plenty of eye-popping drama.
In an ESPN.com excerp
t from his forthcoming autobiography,
Shaq: Uncut
, O'Neal lays out the story behind why he left South Beach for the Southwest. O'Neal admits that he threw a teammate to the ground while exchanging profanites with legendary coach Pat Riley, all while approaching Riley, who was 62 at the time, as if he was going to punch him.
The encounter, O'Neal writes, began when Riley attempted to throw guard Jason Williams out of practice only for O'Neal to step in and tell him to stay.
I tell Pat we're a team and we need to stick together, not throw guys out of the gym. Pat is screaming at me and says if I don't like it, then I should get the hell out of practice, too.

That's when I said, "Why don't you make me?"

I start taking a couple of steps towards Pat. Udonis Haslem steps in and I shove him out of the way. Then [Alonzo Mourning] tries to grab me. I threw him aside like he was a rag doll.

Now it's me and Riley face-to-face, jaw to jaw. I'm poking him in the chest and he keeps slapping my finger away and it's getting nasty. Noisy, too. He's yelling "F--- you!" and I'm yelling back, "No, f--- you!"

Zo is trying to calm us both down and he has this kind of singsong panic in his voice. He keeps saying, "Big fella, no big fella, big fella!" I finally turn around and tell him, "Don't worry. I'm not going to hit the man. Do you think I'm crazy?"

Everybody was kind of backing away from me because I had that murderous "Shaq is about to go off" look on my face. They knew better than to mess with me at that point.
So, if you're keeping score at home, that's teammate-on-teammate violence plus threatened elderly violence.
Shortly thereafter, O'Neal writes, Riley contacted his agent and said that a trade was in the works. O'Neal played his first game with the Suns in February 2008. The Heat won just 15 games that season and took a step towards rebuilding; O'Neal enjoyed a mini-resurgence in the desert. One of those mutually-beneficial trades, I guess.
The biggest lesson here is that it was Riley's way or the highway in South Beach. Having won and lost with the biggest egos of multiple generations of NBA players, it's no wonder that he took the plunge on acquiring
LeBron James
without hesitation. Dealing with O'Neal nose-to-nose with your credibility challenged is perfect training for the many personality challenges that James brought to the table last season.
If Riley could motivate a title out of O'Neal, who was apparently capable of
really
flipping out when the going got tough, it's difficult to bet against him coaxing one out of James, too. Of course, it's Erik Spoelstra, and not Riley, who must physically stand, unflinching, when questioned and challenged on the practice court these days.
RELATED: In new book, Shaquille O'Neal writes that he was physically abused by his father