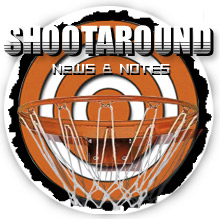 Miller drops his man, Gortat is a soccer nut, Z-BO for USA, and the worst half of basketball ever, all in today's Shootaround.
Posted by Matt Moore
Knicks
blog
Posting and Toasting says
Danilo Galinari needs to make
Landry Fields
his hero: "Gallo has returned to chilling around the three-point arc and waiting for kick-outs. Even there, his conversion rate has been uncomfortably low. One way he might see more opportunities is to do what Chandler and Landry Fields have been doing and dive in diagonally or along the baseline when Stoudemire receives the ball around the free throw line. It's not like Gallo's hurting the team (5 assists, 4 boards, and decent enough defense on the perimeter), but he can do much more to help them. 2-7 isn't the kind of output you expect from someone with Gallo's scoring ability."
Zach Randolph
wants to play for Team USA
. I'm curious as to whether Zach realizes that the traditional block concept is nearly absent in international play.
Marcin Gortat
was
a huge soccer fan and played it almost exclusively
until he was 18 when he found basketball. Add him to the list of guys you'd put on a soccer team from NBA players with
Steve Nash
being the obvious first overall choice.
Behold: The
worst half of basketball ever
.
Brad Miller
dropped the man coming around his screen this weekend. Unfortunately,
it was his own man
.
Ben Wallace
is so good even at his age that bloggers
know they're taking him for granted
: "I don't spend much time writing about Wallace anymore because, frankly, he's just so consistently good that I don't think it needs pointing out. But he, along with Hamilton and Prince, was part of the "retro" performance I alluded to in the headline. Wallace had 9 rebounds, 5 assists, 3 blocks and a steal. He was an imposing presence inside and a huge reason Cleveland's guards shot poorly. They may have been getting penetration, but Wallace blocked or altered several shots in his 24 minutes and he continued to show that he's a great high-post passer and someone the
Pistons
can comfortably take advantage of on offense."
A lockout would be devastating on so many fronts, but here's another:
Kevin Garnett
may retire
.
Our own Ben Golliver on what was memorable from last night's Blazers win over the
Clippers
,
the violence
: "This game will endure for its random acts of violence. First, and most memorably, Blazers center
Joel Przybilla
, who was greeted with a standing ovation upon his entry to the game, was flagrantly fouled by
Brian Cook
with 4 second remaining in the third quarter. The mid-air hit, which sent Przybilla flying to the ground, wound up earning Cook a Flagrant Foul 2 and an immediate ejection. It also set off a tussle under Portland's basket, with Clippers point guard
Baron Davis
getting into Blazers forward
Nicolas Batum
's chest, and Przybilla and Clippers big man
Craig Smith
apparently getting after it as well. All four were assessed technical fouls, and the sequence resulted with Przybilla splitting the free throws awarded him for Cook's flagrant foul, for his only point of the game."
If Brad Miller is the
fuel for your offense
? You may need to get a new engine.
Glen Davis
,
meet medicine ball
.