NBA F&R breaks down the MVP candidates after the first month of the season by dissecting the award down to three parts: Most Valuable, Most Important, and Most Oustanding Player. CP3 is in control.
Posted by Matt Moore with contributions from Ben Golliver and Royce Young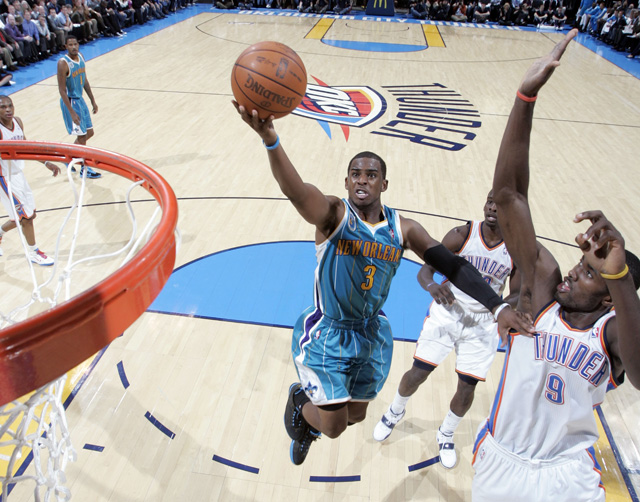 Well, we're a month into the season and the context of this year has begun to take shape. While certainly a long way from the finish line, we've already gotten a glimpse of who's playing well, who's playing average, and who ... not so much. And so it is that we begin our monthly look at awards. On a regular basis we'll take you around the award contenders and give you a look at who is in contention for the NBA's major awards by breaking down what they really mean in our Award-O-Matic. Today we start with the MVP.
The problem, as has been elucidated approximately a million times by various media members, is that the MVP is a nebulous, hard to define award. Its name is Most Valuable, but it most often goes to the Most Outstanding Player on a winning team. If your play is other-worldly but your team doesn't win, you have no shot. If you contribute the most to a winning team but your numbers aren't stellar, again, your chances are slim. It takes a combination of three factors: value, performance, and importance to snag the award. As such, we decided to break the award into those three categories, tally them up with the top player getting 3 points, the second 2, the third 1, then summing to see if we could come up with a list.
First up?
Most Valuable Player (To Their Team): Who is most responsible for their team's success? Or, to put it another way, whose team suffers the most without them?

Matt Moore:
1. Dirk Nowitzki:
Without him that offense is anemic and it's been his rebounding that's kept them in games at points.
2. Carmelo Anthony:
Seriously,
Nuggets
. Cliff. Teetering. Melo's the only thing keeping the truck from smashing into pieces.
3. Dwight Howard:
Get him in foul trouble and the
Magic
turn into a Mid-Major college team, just wining it from perimeter to perimeter.
Ben Golliver:

1. Chris Paul:
I like
Darren Collison
as much as the next guy, but CP3's return from injury to lead New Orleans' absurd hot start, despite an unimpressive supporting cast, reveals exactly how valuable the league's best point guard is.
2. Rajon Rondo:
Boston would still be good without Rondo, but his game ownership places them on an elite level and makes them the odds on favorite to win the East yet again. 10.6 points, 14.2 assists (what!), 4.8 rebounds and 2.5 steals through the end of November. Crazy.
3. Kevin Durant:
The
Thunder
have had an up-and-down start but imagining this team with
Russell Westbrook
at the helm by himself, dragging an ineffective
Jeff Green
along for the ride, would be a recipe for a guaranteed lottery team. KD will get better -- perhaps much better -- over the course of the season, and he's already easily leading the NBA in scoring again.
Royce Young:
1. Chris Paul:
Subtract Paul and what do you have. I can promise you it's not an 8-1 team. It's really as simple as that.
2. Dirk Nowitzki:
The
Mavericks
are dangerous in every fourth quarter that they're close in. The reason is because Dirk can score in every situation, at any time. He essentially is the Maverick offense.
3. Steve Nash:
Take Nash away and yes, there's
Goran Dragic
who can dazzle in stretches. But without Nash this
Suns
team is nothing more than a 35-win club. With Nash, there's potential to push for the playoffs.
Most Important Player: Who is most crucial to their team's success? Ex. Last year I argued that Josh Smith was MIP because when he did Josh Smith-y things, the Hawks were nearly unstoppable, and when he didn't, they were much more beatable.
Matt Moore:

1. Chris Paul:
He does everything and it starts and stops with him. This is even more clearly illustrated by their recent struggles down the stretch where he hasn't been involved.
2. Al Horford:
The level of production Horford is creating right now is simply astonishing. More astonishing is how overlooked he is.
3. Pau Gasol:
It's him that's carrying the
Lakers
. Even as Kobe scores all the high points, the most dominant Laker performances this season are from Gasol.

Ben Golliver:
1. Pau Gasol:
His virtuoso early season performance has single-handedly made
Andrew Bynum
an afterthought. What more needs to be said?
2. Deron Williams:
Utah's streak of comebacks begins with Williams' tough-minded leadership and ends with his play-making and shot-making.
3. Dirk Nowitzki:
Another banner start from Dirk singlehandedly puts a Dallas roster loaded with question marks in the playoff mix.
Royce Young:
1. Pau Gasol:
Having Gasol as part of the triangle has been like a revelation. He's really what makes the Lakers so darn dangerous.

2. Kevin Garnett:
We saw what an impact his has in regard to the Celtic defense two seasons ago when his knee was injured.
3. Nick Collison:
He's a classic no-stats All-Star. He's only played for a few weeks so far this season for Oklahoma City but his value is immeasurable and impact immediate. He tips rebounds that become extra possessions, takes charges, sets outstanding screens and makes two or three small (but big) plays a game.
Most Outstanding Player: Who has simply wowed you?
Matt Moore:
1. Rajon Rondo:
Key plays every time he's on the floor and he makes it look easy, There are a lot of moments where he looks like he's just on a different plane from everyone else.. and he's got three Hall of Famers on his team.
2. Russell Westbrook:
Westbrook has managed to take over the game down the stretch. His turnovers are down, assists are up, he's got range and that mid-key pull-up jumper is as deadly as it ever has been. He's been simply phenomenal in half-court and full-court sets.
3. Deron Williams:
Three point guards? Yup. Check Deron at the end of the clock with the game on the line. Money. And that's after all the assists, rebounds, key plays and floor leadership. Man's a ninja, no joke.
Ben Golliver:


1. Dwight Howard:
Lost in the Miami
Heat
wave, Howard is quietly putting up 22.6 points, 11.9 rebounds and 2.4 blocks as the defensive and rebounding engine that will make Orlando a title contender for years to come. By the way, Orlando sits atop the Southeast Division -- 3.5 games ahead of the Heat.
2. LeBron James:
His numbers are crazy and his highlights are spectacular. It's a wonder he can jump so high and dunk so hard carrying the burden of
Chris Bosh
and Erik Spoelstra's corpse on his shoulders.
3. John Wall:
Wall doesn't belong in the MVP discussion -- there are too many holes in his game (jumper, turnovers) and his team is terrible -- but for sheer "outstanding-ness" and "wow factor" he merits inclusion here. His assist numbers have been great and his speed is tops in the league; he's a lot further along the NBA readiness scale than even his biggest fans could have imagined.
Royce Young:
1. Rajon Rondo:
He's been nothing but insanely ridiculous. Manages the game perfectly, understand his place within an offense and runs the show beautifully.
2. Kevin Love:
When given the time on the floor, he's a legitimate 20-20 threat every single night. How many players can you really say that about?
3. Russell Westbrook:
There's a case to be legitimately made for Westbrook as an MVP contender. Kevin Durant is still leading the league in scoring, but Westbrook is what's kept the team winning games. But his play has been just insane this year (23.8 ppg, 8.4 apg, 5.1 rpg) and he's a super-highlight waiting to happen.
Here are the tallies:
Most Valuable Player:
1. Chris Paul (6)
2. Dirk Nowitzki (5)
Tied for 3rd: Carmelo Anthony, Rajon Rondo (2)
Tied for 4th: Kevin Durant, Dwight Howard, Steve Nash (1)
Most Important Player:
1. Pau Gasol (7)
2. Chris Paul (3)
Tied for 3rd: Deron Williams, Al Horford, Kevin Garnett (2)
Tied for 4th: Dirk Nowitzki, Nick Collison (1)
Most Outstanding Player
:
1. Rajon Rondo (6)
Tied for 2nd: Russell Westbrook, Dwight Howard (3)
Tied for 3rd: Kevin Love, LeBron James (2)
Tied for 4th: John Wall, Deron Williams (1)
Top 5 in Totals:
1. Chris Paul: 9
2. Rajon Rondo (8)
3. Pau Gasol (7)
4. Dirk Nowitzki (6)
5. Dwight Howard (4)