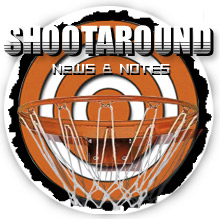 Posted by Royce Young
Pete Thamel of the New York Times on the brilliant move by Team USA to go zone in the final possession yesterday: "American basketball coaches are rarely credited for their tactics at the international level; they are expected to have the most athletic and talented team. But what made the move to the 2-3 zone so effective was the coaching staff's understanding of a nuance of international rules. Team USA expected Spain to run a high screen-and-roll for Juan Carlos Navarro, who led Spain with 20 points and prompted Boeheim to say, half kidding, that he had scored on that play on five consecutive possessions. Instead, when the United States went to the zone, Spain had to scrap its play and could not call another timeout because FIBA rules do not allow them in the middle of possessions."
Mike Wells of the Indy Star: "I think it's funny that some fans immediately put the Pacers in the playoffs after they acquired Darren Collison. Darren Collison is just one piece - a giant piece I might add - but they've still got some work to do if they expect to end their four-year postseason drought. No matter what you thought of Troy Murphy's defensive flaws, the Pacers will have to find a way to make up for the 11.0 rebounds he averaged the past two seasons. Roy Hibbert was second in rebounds at 5.7 last season. That won't get it done. Pacers officials know it, too."
Brian Robb of Celtics Hub looks deeper into Rajon Rondo's DNP yesterday: "Ultimately, the biggest question coming out of this game for C's fans is likely whether Derrick Rose played himself ahead of Rondo into the starting lineup for this tournament. I know it's just an exhibition game, but Rose played well today (13 points) against a superior opponent, providing crucial scores in the game's closing minutes, including the game winning free throws."
Steve Nash coulda been rich man, says Michael Schwartz of Valley of the Suns: "Alas, Steve Nash chose the security of the two years and comfort with the organization in signing the deal, but after enjoying such a spectacular season last year he probably would have been in line for a nice raise on the open market. I bet he could have gotten something in the area of three years and $40 million."