The Hawks have a 2-1 lead that feels dominant, despite needing a desperation 3-pointer to save Game 3. Without Jason Richardson or Zaza Pachulia, how does this series go forward?
Posted by Matt Moore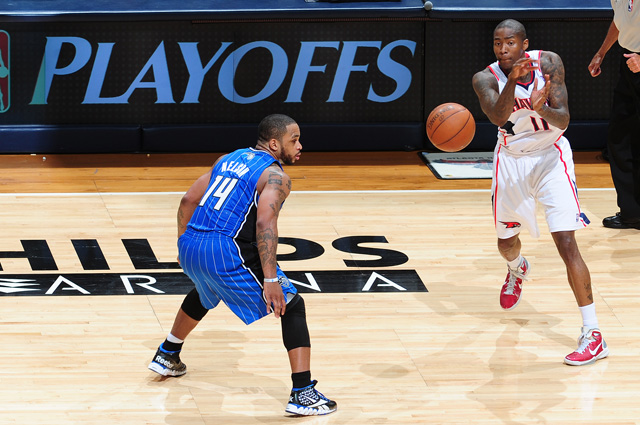 The Narrative:
You want a classic must-win situation? Try the higher seed on the road, down 2-1, in a series where the other team has looked superior for 9 of 12 quarters. Try a team with major questions on both sides of the ball playing without their best wing player. Try a team trying to tie the series up when their biggest advantage -- their franchise center -- has had HUGE games, and they've still lost. Try a team reliant on their 3-point barrage desperately scrambling to find that shot. The
Magic
have no reason to panic ... as long as they win. If they lose, the good people in the Magic Kingdom will be slamming down that button so hard they'll break it.
The Hawks, considered an afterthought in these playoffs, have an opportunity to take a commanding lead in the series. It's a testament to their team effort on both sides of the ball, even as people continue to mock them (rightfully) for their reliance on ISO play. The Hawks have depth with
Jamal Crawford
. They have a shut-down point guard in
Kirk Hinrich
. There's a versatile All-Star who everyone just wants to mock for his contract in
Joe Johnson
. A versatile power forward who hasn't even tapped into his potential in
Josh Smith
. And then there's
Al Horford
... arguably the second best center in the Eastern Conference. What's not to like? The Hawks have confidence and a chip on their shoulder. This game's as big for them as it is for Orlando.
The Hook:
How do both teams react to the suspensions for Jason Richardson and Zaza Pachulia? Richardson is a starter, a bigger part of the offense. But Pachulia has been bigger in this series, doing the yeoman's work on
Dwight Howard
with some success, and bringing physicality and toughness to the Hawks. Pachulia will mix it up with anyone, and he backs down players who should be considered tougher than him. Without his six fouls, Dwight Howard could have another huge game.
Quentin Richardson
could step up and deliver. This could work out being a blessing in disguise for the Magic.
The Adjustment:
Is Josh Smith going to figure it out?
Hedo Turkoglu
can't guard him. No one on the Magic can guard him. But he continues to settle for 3-pointers and mid-range jumpers. If Smith decides to commit to his game, which is physical, fast, and athletic, he can have a huge night that puts him on the NBA map. But, if he keeps settling for perimeter shots and spot-up jumpers, he'll face more of what happened at the end of Game 3, where coach Larry Drew benched him for the final possessions. No player in this series is failing to meet his potential as much as Josh Smith. When you consider the Hawks are up 2-0, that tells you a lot about how badly the Magic are playing.
The X-Factor:
Quentin Richardson is a versatile veteran who can knock down big shots, defend, and has been hot lately, one of the few Magic players in that situation. With JRich out, QRich could step up and be a big difference maker. He fits in well with the Orlando system of catch-and-shoot, and has no hesitation in his jumper. Richardson is also a competent defender, and can help the Magic create turnovers. If he steps up, the Magic's perimeter attack could improve, and that shifts everything in this series. Conversely, if Richardson tries too hard and takes too much on himself, he can shoot them out of it.
Marvin Williams
better be prepared to play, as well as Josh Smith, when he's matched up on him.
The Sticking Point:
The Hawks have committed more and more to playing Dwight Howard physically. Game 3 was the first game where it worked. Behind a surprisingly raucous crowd, the Hawks had things well in hand. Then, in the third quarter they opened the door again by seizing up. They let the Magic back in it and nearly lost, needing a desperation three from Jamal Crawford. A bank shot, at that.
The Hawks have soundly outplayed the Magic in this series, and yet, if it weren't for a desperation heave from Crawford, the Magic have the 2-1 lead. This series is close, it's physical, it's intense. It has some offensive hijinks on both sides, but it's also got periods of flawless execution. Game 3 was a battle, Game 4 could be a war.