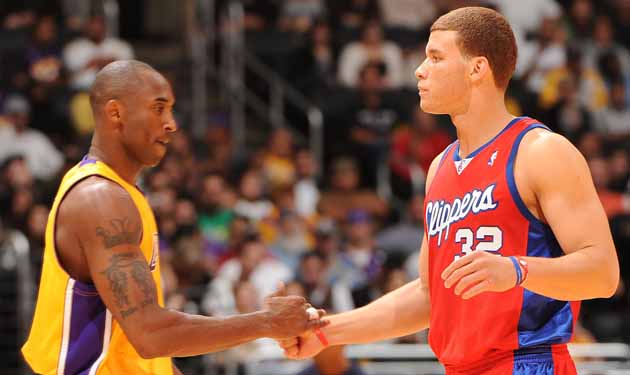 By Matt Moore
We're less than two weeks away from the start of the 2011-2012 NBA season. After an interminable lockout and a rushed free agency period, here's a first look division-by-division preview at how the league is shaping up. We begin with the Pacific Division.
2011 Standings:

Los Angeles
Lakers
, 57-25, lost 4-0 to Dallas
Mavericks
in 2nd round of Western Conference Playoffs
Phoenix
Suns
, 42-42, NBA Draft lottery
Golden State
Warriors
,36-46, NBA Draft lottery
Los Angeles
Clippers
, 32-50, NBA Draft lottery
Sacramento
Kings
, 24-58, NBA Draft lottery
Best team: Well, see, the thing is... Chris Paul (UPDATE: TIE- LOS ANGELES LAKERS AND LOS ANGELES CLIPPERS)
Chris Paul was traded to the Los Angeles Clippers Tuesday night. Even with the Lakers unable to obtain Paul, the combination of
Kobe Bryant
,
Pau Gasol
, and
Andrew Bynum
is probably enough to take the honors here. But with Paul joining
Blake Griffin
, even without
Eric Gordon
, the additions of
Caron Butler
, Chauncey Billups and re-signing
DeAndre Jordan
make as tough of a team to face as any. Griffin's impact next to Chris Paul is nearly incalculable.
The Lakers may still have the edge, but after the loss of Odom, everything is up in the air as far as who runs Staples now. The reality is that Paul landing in the city of L.A. will shift the division in one direction or another for the next half-decade at least.
Worst team: Sacramento Kings
The Kings are tricky. They have a convoluted backcourt.
Tyreke Evans
took a step back last season and it remains to be seen if it was all injury-related or not. There's no telling how
Jimmer Fredette
will adjust to the pro level.
Marcus Thornton
will struggle for minutes despite his all-around ability.
John Salmons
is floating around. There were huge chemistry questions last season and the players struggled against coach Paul Westphal at times.
If things don't improve, if
DeMarcus Cousins
doesn't mature, if
Chuck Hayes
can't protect the rim enough with his diminutive stature, things could get bad. And yet...
Biggest surprise: Sacramento Kings
There's so much firepower in that backcourt. Untangling it is complicated but they have everything. Shooting, athleticism, size, range, explosiveness, savvy, handle, everything. They have too much ability to not be effective in some ways. Cousins was a beast last season and even a small amount of maturity and development means he could be a near-All-Star (in the East, the West is too stacked). They have young talented bigs and Hayes who provides savvy and veteran knowledge.
The pieces are there. They're going to be exciting, even if they're struggling with an identity.
Three Best Players: Kobe Bryant, Blake Griffin, Pau Gasol, Steve Nash, Chris PaulUpdate:
With Paul joining the division, he instantly becomes one of the three best players. The best pure point guard in the league, with excellent shooting touch, terrific defense, and a supreme will to win? He leap-frogs both Pau and Nash.
Kobe Bryant needs no explanation, even at his age. The end.
Blake Griffin is the most explosive player in the league and the first player in a few years for people to say he could legitimately be the best player in the league at one point. His explosiveness and rebounding is unmatched, his mid-range jumper isn't lightyears away and his defense will get there. Already, Griffin is a force to be reckoned with. What happens when he gets better?
Gasol vs. Nash? Gasol was an early season MVP candidate. He is arguably the most skilled big man in the league (as opposed to
Dwight Howard
, the most dominant and most talented). And yet his collapse in the 2011 playoffs is the stuff of legend. It was such a complete failure at both ends, when the Lakers needed him most, it's damning. Gasol could very well be the second best player in this division this year. He could also slide back with age.
Nash? Ho-hum, another 50-40-90 season (got to round up for once, but still). His weighted assists, factoring three-pointers assisted on, left him at 13, which means combined with his 15 points per game, he contributed 41 points per game to the Suns. That's absurd. It's also not the highest in the league for a point guard, but it's still an example of how good Nash is. He's flat-out old in relative terms of the league, and yet is in the best shape he possibly could be thanks to conditioning. Nash is still elite, an therefore neither he nor Gasol can be exempted.
Biggest Question: Can Golden State change its stripes?
Mark Jackson has to completely turn what the Warriors know as their identity inside out. They have to commit to defensive principles.
David Lee
,
Monta Ellis
,
Stephen Curry
, these players are not known for this, at all. It's going to take a miracle. If Jackson can get them to buy in and if his system is good enough, the Warriors could make a jump.
Kwame Brown
helps down low (don't laugh, he's become a quality defender). But there's so much to be done in terms of changing this team's indentity, the Warriors could be in for rocky seas.
2012 Projected Standings:
1. Los Angeles Lakers
2. Los Angeles Clippers
3. Golden State Warriors
4. Phoenix Suns
5. Sacramento Kings