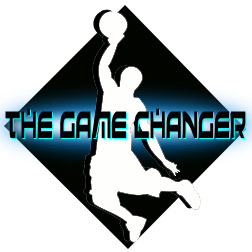 Rudy Gay throws down a hammer, LeBron James makes a poster, a Los Angeles Clipper hits a 70 footer and the Miami Heat take care of business on the road. Posted by Ben Golliver.

Each game is made up of elements which help formulate the outcome. Monday through Friday, we'll bring you the elements from the night before's games in our own specialized version of the game recaps. It's not everything that happened, but it's an insight into what lead to the results you'll see in the box scores. This is
the Game Changer.
THE BIG ONE: MIAMI HEAT TAKING CARE OF BUSINESS
If the Miami Heat keep this up, we might actually have to give them some credit. Man, I hope that doesn't happen. The Heat got a solid, although not spectacular, road win on Monday night, dropping the
Bucks
in Milwaukee, 88-78.
Nobody on the Bucks could buy a basket, save reserve forward
Corey Maggette
, who finished with a team-high 20 points, and the Heat did a solid job of protecting an early lead during an even second half. There were a few highlights (see forward LeBron James starring in one of the prettiest below) but the low-scoring nature of the game and Miami's sloppy play (18 turnovers) put a premium on sharing the ball (20 assists on 35 field goals) and controlling the boards (48 to 35 advantage), and the Heat managed to do both.
Milwaukee, which drops to a disappointing 7-13 on the season, is really under-performing so far this year given the playoff-quality talent on their roster. But taking care of underwhelming, lesser-talented teams on the road is what everyone expected of these Heat, and they came through without too muck flak on Monday. The Big 3 formula sparkled again, combining for 58 of Miami's 88 points, plus 32 rebounds and 12 assists. Those numbers represent an absurd percentage of Miami's offense, and clearly Milwaukee had no answers for their collective athleticism.
The Heat improve to 14-8 on the season, and continue their road trip on Wednesday against the Utah
Jazz
, who will provide a more formidable test in an even more hostile environment than the Bradley Center.
RUDY GAY HAMMER:
This dunk came near the end of a road loss to the Utah Jazz, but Memphis Grizzlies wing Rudy Gay reminded everyone why he has been a Slam Dunk Contest participant in the past.
GO-GO-GADGET LINE OF THE NIGHT:
After hitting for 30 and 30 earlier this season, Minnesota
Timberwolves
forward
Kevin Love
went off on the New York
Knicks
once again, taking home top honors Monday night.


Kevin Love:
33 points, 15 rebounds, three assists, one steal on 10-18 shooting in 42 minutes in a road loss over the New York Knicks.


Runners-up...


Josh Smith :
19 points, 13 rebounds, three assists, one steal, four blocks on 9=17 shooting in 40 minutes in a road win over the Orlando Magic.


Carlos Boozer
: 29 points, 12 rebounds, one assist, one steal on 13-21 shooting in 36 minutes in a home win over the Oklahoma City
Thunder
.
DON'T MISS:
WHIMSY:
Sometimes you don't need to dunk on an opponent to make a poster. Miami Heat forward LeBron James demonstrates this fact against the Milwaukee Bucks.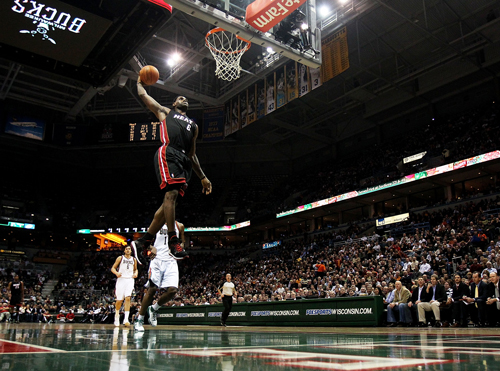 WHIMSY II:
No, this isn't a photoshop.
FROM WAY DOWNTOWN:
Here's Los Angeles Clippers wing Ryan Gomes nailed a 70-footer at the first half buzzer, only it was a hair late and didn't count. The Clippers beat the Sacramento Kings anyway, 98-91.