Posted by Ben Golliver.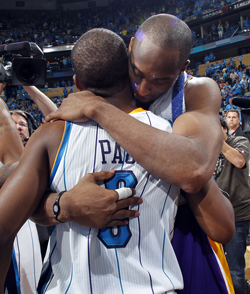 As NBA teams race to spend their Mid-Level Exceptions on the likes of
Kwame Brown
,
Jeff Foster
and
Samuel Dalembert
in free agency, the Los Angeles
Lakers
lay back in the cut, holding two of the league's premier big men --
Pau Gasol
and
Andrew Bynum
-- on their roster. Both players have questions about their long-term fit in L.A. and both ended their 2010-2011 seasons in disappointing fashion. Add up the ever-present demand for quality big men and the Lakers' surplus of potentially ill-fitting low-post parts and it's a recipe for trade rumors galore.
Indeed,
Yahoo Sports reports
that New Orleans
Hornets
point guard
Chris Paul
, who is eligible to sign an extension this season but reportedly desires a new team and/or bigger stage, has been the subject of recent conversation between the Lakers and the Hornets involving Gasol or Bynum.
The Lakers and Hornets talked several days ago, league sources told Yahoo! Sports, but it was one of those circuitous conversations that left the sides unclear what it would take to get a deal done, and the talk ended with no formal offers. The Lakers and Hornets expect to speak again this week, sources said. The prospect of Pau Gasol as the primary player going to the Hornets won't be acceptable, sources said. The Lakers will ultimately be willing to let New Orleans pick its player in the deal – Bynum or Gasol – but New Orleans is determined to get quality, and quantity, in a deal.

Bynum has privately been heard to say this offseason that he wants his own team, and the chances of him getting that – in New Orleans or Orlando – have never been higher. Years ago, Kobe Bryant wanted Bynum moved for Jason Kidd, but Bryant's been insistent all summer that he still believes in this core, isn't interested in wholesale change.
The Hornets face the prospect of rebuilding their entire roster from zero should Paul eventually communicate that he wants out and if former All-Star forward
David West
signs elsewhere in free agency. If you're the Hornets and you're aiming for a slash-and-burn rebuild, you want to shed center
Emeka Okafor
's 8-figure contract that potentially runs through 2013-2014 in any Paul trade, and the Lakers have a handy piece in facilitating that thanks to forward
Lamar Odom
, whose contract is only fully guaranteed through this year.
Emerging from the Chris Paul fracas with Gasol locked in through 2013-2014 or Bynum through 2012-2013, a chance to re-sign Odom, loads of cap space to build a roster and whatever other tertiary trade pieces L.A. can scrounge up (money, future draft picks, etc.) wouldn't be the worst thing in the world for New Orleans. Not by a long shot. The preference is probably for Gasol, despite the fact that he's 31, but either player gives you a platform to build around. Other potential suitors -- particularly the New York
Knicks
-- can't make an offer that's even in the vicinity. As for Gasol not being enough as the centerpiece?
Carmelo Anthony
and
Deron Williams
both moved last year without anyone nearly as good as Gasol being part of the return package. Once that leverage kicks in, demands crumble.
Meanwhile, for Los Angeles, it would mean better roster balance, more room for the remaining big man to breathe and a dynamic playmaking point guard to extend the career of All-Star guard Kobe Bryant. It would amount to a gigantic upgrade at the position of greatest need while taking a step back at the position of greatest depth. If included, Okafor would be one of the best reserve big men off the bench or could be flipped in another deal. For roster chemistry reasons, the Lakers probably want to ditch Bynum instead of Gasol, although contractually he is a better value as long as his knee issues don't recur. Parting with either one is a no-brainer if it
Nets
Paul in return.
The Lakers are built and paid to win now, and Paul brings that promise to any team he plays on, especially one that's already as loaded as the Lakers are. If there's a risk, it's that both Paul and Bryant have issues with their knees, but pairing two of the game's top-8 players, not to mention elite competitors and most marketable faces, would make this a risk well worth taking.
The Hornets should slow play this so as to maximize the total package for Paul. But the main pieces are there: a centerpiece player in return, financial relief and the odds and ends that go into dealing with a team as loaded as the Lakers (picks, millions in cash, etc.). It's difficult to imagine that another team can make as compelling of an offer without totally demolishing their team's core or identity. Swing a trade like this, and the Lakers as potential contenders don't skip a beat, at least for the next two or three seasons.