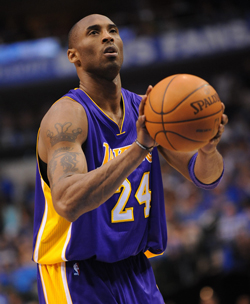 Kobe wants to retire a Laker.
(Getty Images)
Posted by Royce Young
Kobe Bryant
is 33 years old. But in basketball terms, he's older than that. He came straight out of high school into the NBA and has played in 1,128 games. That's a lot of games.
Retirement isn't on the horizon for Kobe, but it's certainly just over. He's had an incredible NBA career winning five rings and has just cracked the top five in all-time scoring. He could catch Wilt Chamberlain and Michael Jordan on the list and if he really stretched out his career, Kareem Abdul-Jabbar who he's about 9,500 points behind.
But he's not going to do that.
Via an interview with ESPN
:
How much more time do you think you have?
Kobe: It's interesting to me to hear people put the proverbial nail in the coffin. Very interesting. You think I'll hang around and average 19 points, 18 points and stuff like that? Hell no!

Can you imagine yourself in another uniform outside of a Lakers uniform?
Kobe: No.

So you'd retire before you went somewhere else?
Kobe: Why would I go somewhere else? That ship sailed in '07. ... I'm not going to jump ship to chase a sixth ring. I'm just not going to do it. It's either going to happen here or it's not going to happen.
So in other words, he's not going to go the Jordan route. He's not going to come back to a team as an old man, average 18 games just with his post game and maybe make a playoff run. At least that's what he says. We'll see how Kobe feels when the reality has set in that he's not playing anymore.