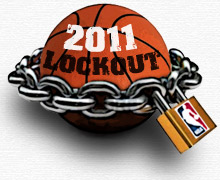 By Matt Moore
Tuesday after the NBPA met with its team representatives and stated the current offer from the league is unacceptable in advance of the league's threat to withdraw to a significantly worse offer Wednesday at close of business, Billy Hunter signalled a desire to meet with David Stern and NBA officials for a further negotiating session in advance of the deadline.
On NBATV Tuesday night, David Stern would not committee to a new meeting with Hunter, but said he would take Hunter's call and would consult with the NBA Labor Relations committee regarding further action.
"I always take Billy's call, as a sign of respect," Stern said.
When asked about the players' willingness to drop on the cut of BRI again in return for more systemic concessions from the league, Stern said there was no "wiggle room" to be found from the owners since their last offer Sunday morning at 3 a.m.
Stern defended accusations from
Derek Fisher
that the current proposal is a "bad deal" by discussing that the elements included were first proposed by federal mediator George Cohen. Stern admitted that if a deal is not struck by end of business Wednesday, at which point the owners' so-called "Cap Reset" plan goes into effect, he would be "losing confidence" that a deal could be reached to save the season.
In response to Hunter's statement that he had heard through "underground sources" that the league was considering canceling games through Christmas if there was no deal reached Wednesday, Stern laughed off the suggestion.
"I don't know what ground he's talking about or under what ground he's looking," Stern said. "But we have no such plan. We need 30 days from the end of negotiations."
Stern revealed little in the interview outside of what we already know. The owners feel they've given all they can, the players don't think it's enough, and the league is prepared to swing the hammer on Wednesday. It's a game of chicken and the seemingly inevitable collision will be the loss of teh 2010-2011 season.