The Heat win a big one as the entire team steps up, while Kobe Bryant shows what makes him great, and frustrating, after the game.
Posted by Matt Moore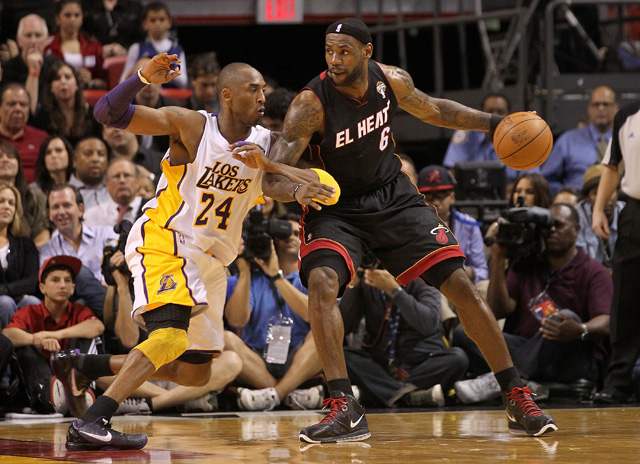 Let's get this out the way.
While this game was one that the
Lakers
genuinely cared about (as evidenced by the kind of effort given by both the players and Phil Jackson, who not only actively coached, but yelled at officials standing up, and called timeouts), it does not "matter." The Heat is still unlikely to face the Lakers again this season with both Chicago (0-2) and Boston (0-2) somewhere in their spring future. Had the Lakers won, it would not be a death knell on the Heat's future. This is not a conviction of the Lakers' season.
But it
was a great game
, and it was one in which there were things that made zero sense, and some that made all the sense in the entire world.
What we'll remember from
this game
:
The Heat gave everything:
We'd waited all season for them to rise to a moment, a
nd they finally did
. Wade diving on the floor for a loose ball, chucking it to James for a dunk so hard he wound up in the second row of photographers. It was effort from start to finish, and it was impressive, despite some terrible shooting performances.
Dwyane Wade rose to the moment:
I couldn't get over how terrible Dwyane Wade looked for the first 36 minutes of the game. He was losing balls unforced out of bounds off the dribble. He was missing wide-open spot-up threes. He was playing as he had in every big game for the Heat this year. Then suddenly, it all fell into place and Dwyane Wade, the Dwyane Wade who's an NBA champion, an MVP candidate, one of the best shooting guards in the history of the game stepped up and made the plays he needed to make to win the game. It was a definite redemption after the last three weeks of struggle, and something the Heat badly needed. James did his job, Wade did his job, capitalized on the opportunities, and perhaps most importantly, didn't settle from the outside. He attacked, and the result was shots at the rim. Wade's final eight-minute stretch? Eight points on 4-7 shooting, 2 offensive rebounds, 1 block, 1 steal, 1 turnover.
Chris Bosh shutting everyone up:
Chris Bosh was supposed to struggle in the post. He was supposed to be the weak link. And he has for most of the year. But against the Lakers, he was everything he said he would be. He hit the post-turnaround over bigger defenders, he grabbed 9 boards, he worked hard at both ends, played aggressive, smart, and led the Heat in scoring. Chris Bosh was the best player for the Heat the whole night through. Who saw that coming?
Wasted Advantage Down Low:
Andrew Bynum
was 4-5 from the field, and 5-6 from the stripe for 13 points. That's some pretty incredible efficiency.
Pau Gasol
was 8-16 and 4-5 from the line. Not as stunning, but pretty good.
Derek Fisher
, Kobe Bryant, and
Ron Artest
were 14-37. You'd think that at some point, with the Heat trotting out
Juwan Howard
,
Joel Anthony
, and
Zydrunas Ilgauskas
, that someone with the Lakers would say "Hey, maybe we should throw it to one of the really tall guys." It's not that their success is guaranteed, it's that it just seems like something that may have helped. The rebounding, though, that's all on the bigs. Outrebounded 46-37, with the Heat enjoying five more offensive boards. The Lakers did not bring their best efforts on the glass, worried too much about shutting down the Triad.
Support players stepping up and down:
The Heat bench outscored the Lakers' 22-16, something few saw coming.
Mike Miller
was in effect. The Heat badly needed a role player to step up in the first quarter, and it was
Mario Chalmers
, with three big 3-pointers. Zydrunas Ilgauskas wound up a +16 on the night. That's just an impressive overall performance for a squad that's been mocked, derided, and questioned all seasons. Against one of the stronger units, they stepped up and were a huge part of the Heat win.
Kobe Bryant after-hours:
Is there
a more iconic image of Bryant
? In a game that featured a terrible shooting performance from him, where he turned the ball over late, where he hoisted 35-foot 3-pointers into the air, ignoring any semblance of an offensive system, he returns an hour after the game to work on his jumper. This is Kobe Bryant, the most feared player in the NBA, determined to work on the very shots that should never have been taken, confident that if he works hard enough, they'll fall, because they've fallen before. Maybe they fell because he was younger, stronger, but he'll never approach the game that way and his fans will never want him to. They'll want him doing exactly what he did Thursday night, work on his game until his blood's run dry, even if that game isn't what Phil Jackson wants, the Lakers need, or his body requires. As for why he says he did it?
"This is (his) job
." He'll focus on those shots he missed, never considering that maybe he should have created, should have worked in the flow of the offense, should have been a part of the engine as opposed to the sole operator. He's won five championships because of this, he may win his sixth because of this, and he'll be simultaneously revered and reviled because of it. Some will say it's what sets him apart from
LeBron James
even as James got the win. Others will say it's an attention-grabbing stunt, even as he never informed media he'd be there or paid any attention to them. Kobe Bryant will always be the player we can never agree on, can never let go of. He's too determined, too stubborn, too brilliant, too frustrating. But at the end of the day, he's got his rings, and a great chance at another. For one night, however, he's got that gym, and his thoughts.
The Heat have the win.