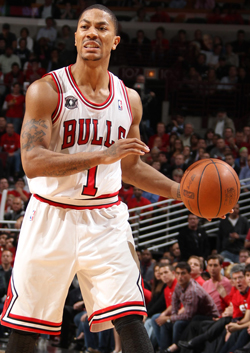 Posted by Royce Young
Nothing is more valuable in the NBA than a star on a rookie scale contract. For those three or four years before he's given a big extension, you can't possibly get more bang for your buck.
Some general managers have used rookie contracts to build their teams. It's no coincidence that Oklahoma City routinely has three or four players in every "most underpaid players" list.
Guys like
Kevin Durant
and
Derrick Rose
have been on rookie deals the past few seasons while Durant has been named to the All-Star team twice with two scoring titles and Rose has won an MVP.
And in the new collective bargaining agreement, those rookie deals will remain equally as valuable. Except one thing is changing a bit and it's a rule named after Derrick Rose.
Rookie scale players are eligible to get an extension starting in their fifth season -- example:
Russell Westbrook
and Rose this year -- and can now get an extra little bump based on performance. A new max has been established which is up to 30 percent of the team's cap, up from 25 percent. But in order to qualify for that extra five percent, the player has to win an MVP, make the All-Star team twice as a starter in their first four seasons or get named to any All-NBA team in their first four years.
Rose obviously qualifies right now and Westbrook could with another All-NBA selection. He was named second team All-NBA last season. The difference is about an extra $3 million.
As the New York Times notes
, Durant could be eligible this season:
Oklahoma City's Kevin Durant may be eligible because the extension he signed in 2010 has not yet taken effect. Under N.B.A. rules, a max contract is tied to league formulas, not a specific dollar amount. Durant could ask the Thunder for the extra 5 percent once the league reopens for business.
Otherwise, Westbrook could potentially make more than his superstar counterpart. Which would only add a little extra fuel to the already stupid fire that there's a rift between Durant and Westbrook.
Not a major win for players, but certainly a reasonable one.
Via SB Nation