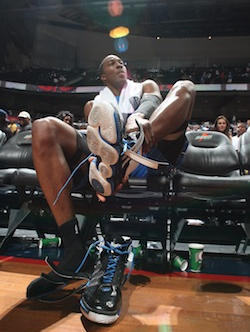 Posted by Royce Young
A couple days ago,
there was the odd but very believable story
that
Dwight Howard
might not be considering the Chicago
Bulls
because of his Adidas shoe contract. Really kind of wakes you up to the power sponsorships and shoe companies have in the league.
Just to pile on to that, Bulls VP of Basketball Operations basically acknowledged that's the case, but without saying Howard's name of course. Via CSN Chicago:
"We don't want to talk about other teams' players but obviously there are situations out there that you know that you have to look at," VP of Basketball Operations John Paxson said on "The Waddle & Silvy Show" on ESPN radio WMVP-AM 1000 Wednesday. "The other part of it is you hope those types of players want to come here. Sometimes, at least what you hear from agents, it doesn't have anything to do with basketball. It has more to do with marketing and whatnot. Those are the things you don't have under control when an agent gets involved and doesn't even want to talk to you. All you do is keep trying, and we certainly will."
"Marketing and whatnot" could be what is keeping Dwight Howard and
Derrick Rose
from forming the most terrifying duo in the NBA. You think
Blake Griffin
and CP3 is good? Howard and Rose would be... well, it would be something.
But because Rose is Adidas' poster boy and might even being signing a lifelong contract, the company doesn't want its two biggest names in the same town. It's an understandable thing from a business standpoint, but a shocking reality at what kind of outside factors weigh in.
Like Paxson said, you just keep trying. The Bulls have some decent assets for the
Magic
, but it has to be about what the player wants. In free agency, you can be sure these things are a part of their decision. Market size, the city, the fans, the organization, family -- all of it's a part. So it's not surprise that Howard's shoe deal might be the biggest factor keeping him from the Bulls. It sounds ridiculous, but it's just part of the game.