San Antonio Spurs guard Manu Ginobili claims to have seen a UFO in Los Angeles, and there's video to prove it. Posted by Ben Golliver.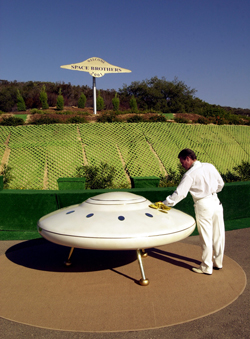 San Antonio Spurs guard Manu Ginobili claims to have seen a UFO, and it wasn't Eva Longoria throwing one of her shoes at
Tony Parker
. File this one under strange-but-sort-of-true.
Take it away, MySanAntonio.com
.
On the night of Dec. 1, while the Spurs were in Los Angeles for a game against the Clippers, Ginobili saw what he thought was a single-engine plane in the process of crashing outside the team's Santa Monica, Calif., hotel. He tweeted about it. He posted video. He forgot about it.
Then, Friday morning, TMZ.com picked up on the story, posting video of the moment shot by fans waiting for autographs near the Spurs bus. In it, you can see Ginobili, a Spurs' security officer and what appears to be a strange light in the California sky.
"It was a pretty strange flight pattern," Ginobili said. "I thought it was falling, not landing. I thought it was like a plane crash. We were expecting to see it on the news the following day, and there was nothing. That's when we got a little curious, 'What the hell was that?' "
Here's a link to the TMZ video, so you can determine exactly how insane Ginobili is for his claim.
We can also rule out Tim Duncan as the UFO, because aeronautical experts have confirmed that he hasn't been able to jump since 2004.
Dollars to doughnuts, this is all an elaborate mental test from Spurs coach Gregg Popovich.