Posted by Royce Young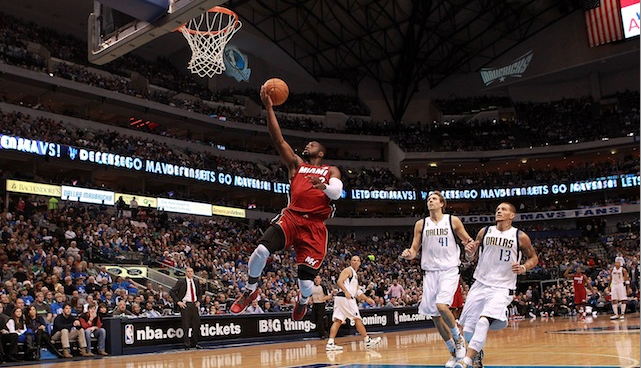 A: Miami Heat
Holy Ghost of Christmas Fast Break.
It was a total show by the Heat
, who basically pummeled the
Mavericks
in every way possible. Maybe it was motivation, maybe it was a revenge factor or maybe it was just the fact the Heat are the best team in the league, but Miami bulldozed their way over the champs and did it in style.
LeBron James
showcased his revamped post game, rookie
Norris Cole
showed exciting flashes,
Dwyane Wade
was excellent the Heat suffocated the Mavs. If you want a signature opening win, the Heat made an early statement.
B: The NBA
Cliche, boring high mark for the league? You know it. But it's deserving. And not just because there was real basketball to be played after a longer-than-normal offseason. The league gets a good grade because its product looked excellent. For all the talk about shortened training camps and fewer practices, the NBA had two fantastic finishes in New York and Los Angeles, the Heat looked amazing, the
Thunder
played a quality game and the
Clippers
and
Warriors
both were good in the capper. There weren't many moments where the game turned to a total slopfest.
The only guy looking that rusty was ref Bill Kennedy
, who evidently needs a few more practices.
C: Lob City
It wasn't showtime or Lob City at all. It was just solid winning basketball. Bor-ing. It's really not fair to give the Clippers an average grade when they went on the road and won by 19 in a tough environment. But for about 40 minutes of the game, Lob City looked a bit mediocre with
Chauncey Billups
shooting them both in, and out, of the game at times. You saw what makes the Clips so darn good (
Chris Paul
coming in and completely closing out the Warriors -- he gets an A) and what makes them vulnerable (lack of depth, iffy shot selection and a conflict of roles -- also known as Chauncey Billups, who gets a D). The Clippers are probably more deserving of a B, but I don't think many came away feeling overly impressed by them Sunday.
His final line stunk: 11 points on 4-12 shooting, four fouls and just two blocks. He didn't change the game at all and
Kendrick Perkins
completely handled Howard. Now I haven't watched Howard up close all that much, but I would say he looked a bit uninterested for stretches in this game. For a player as dominant as him, there's no reason for him to be such a non-factor. Perkins is a really good defender, but Howard didn't affect the game defensively at all.
F: Dallas Mavericks
That first game as champs isn't always that easy. There's still a hangover from the champagne that was popped back in June and the banner raising only causes a little relapse. The Mavs had an entirely complacent look to them and it didn't help that they ran into a total buzzsaw in Miami. Still, you'd expect a little more effort in your first crack at defending your title.